Where To Find Häagen-Dazs' New Dairy-Free Ice Cream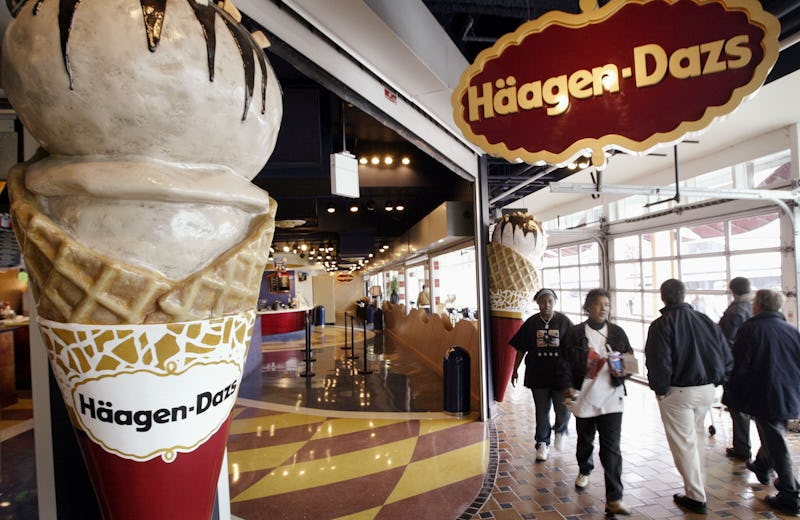 Scott Olson/Getty Images News/Getty Images
Häagen-Dazs is known for offering a wide variety of rich and delicious ice cream, and now, they're adding four new options into the mix. Häagen-Dazs has released new dairy-free ice creams in several yummy flavors: Chocolate Salted Fudge Truffle, Peanut Butter Chocolate, Mocha Chocolate Cookie, and Coconut Caramel. But, how can you get your hands on 'em? Here's where you'll be able to find Häagen-Dazs' new non-dairy products.
Häagen-Dazs is entering the dairy-free game just in time for summer, with a series of new items that promise to deliver the same bold taste as its original ice cream. Case in point? The new Chocolate Salted Fudge Truffle non-dairy ice cream is made with Belgian chocolate, salted fudge, and chunks of fudge truffle. Meanwhile, the Peanut Butter Chocolate consists of peanut butter ice cream topped by swirls of chocolate fudge.
Rounding out the new dairy-free line is The Mocha Chocolate Cookie, which combines Belgian chocolate, coffee ice cream and cookie crumble, and the Coconut Caramel, made with coconut cream and ribbons of caramel. Is your mouth watering yet? Mine definitely is!
In order to make its new ice cream vegan-friendly and safe for the lactose intolerant, Häagen-Dazs said it will be using core ingredients, like peanut butter, coconut cream, and rich chocolate, in order to provide "creamier texture and an authentic taste that shines through."
But there is one catch: The new Häagen-Dazs pints will only be available at one national chain store for the next several months, although (luckily) most people probably have a local branch nearby. Ice cream lovers will be able to buy the latest flavors — which run for about $5.49 per 14 oz. carton — exclusively at Target, starting July 2017.
The flavors will roll out to other retailers nationwide in early 2018. In the meantime, head to your nearest Target to pick up one of these new pints for the perfect summertime dessert!