People Are Losing It Over These New Glitter Birkenstocks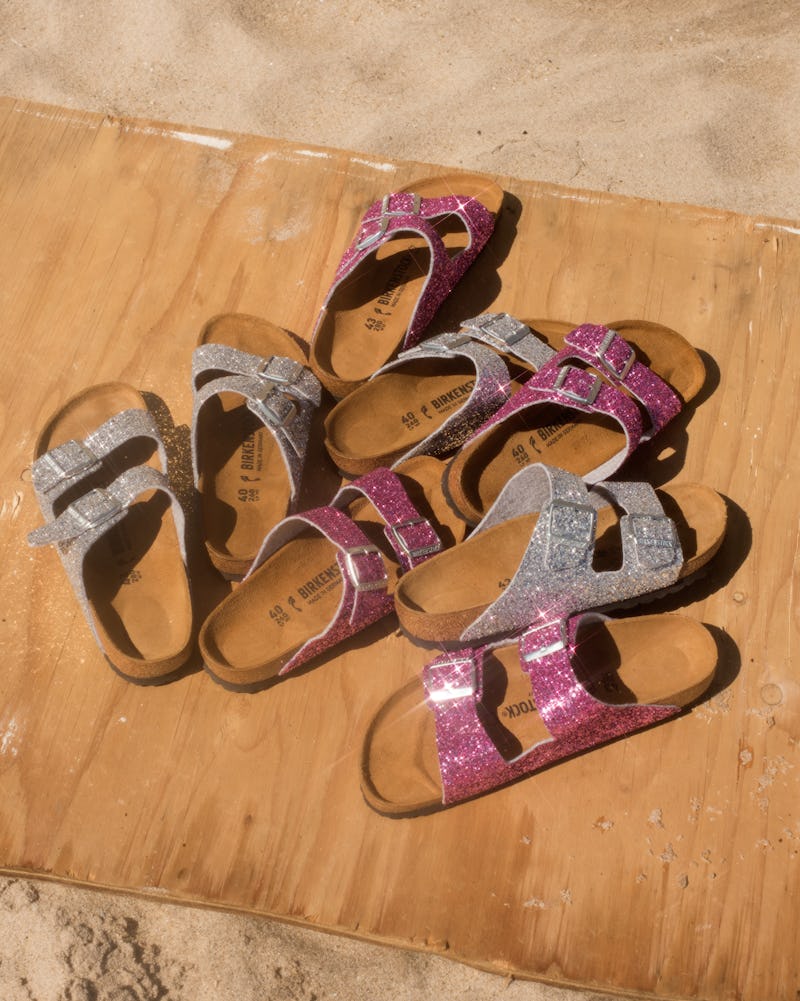 Courtesy of Opening Ceremony
Remember normcore, where no-frills, functional clothes were a fashion "thing" a few years back? Even when it doesn't have such a culturally conversational name, the style still exists. Birkenstocks, the '90s-loved, lo-fi sandals and clogs that epitomize normcore, never go out of style. The glittery Opening Ceremony x Birkenstock collab arrived on April 2, and it's full of supreme sparkle.
The Birkenstock brand has devotees who wear the shoes as soon as warm weather hits. They're not really considered the highest fashion… until now.
The Opening Ceremony collab features three pairs of shimmery 'Stocks. They are unisex, so anyone can rock 'em. The OC makeover of Birkenstocks comes in both hot pink and silver glitter.
The two-strap Arizona sandal and the slip-on Boston clog are the styles available in glittery iterations. They can be purchased online via the Opening Ceremony site and at OC stores.
You can wear these with destroyed jean shorts, a dark wash denim mini, any variety or length of LBDs, summer jorts, board shorts, leggings, whatever.
This footwear has always had that comfy footbed that feels molded straight from your own feet. The prices for the glittery versions are not too much different from other models of the shoe.
The Arizonas and Bostons already vary in price, based on materials and design. There are multiple types of each on the brand's site. So you have choices. Glittery Birkenstocks are just another worthwhile option.
The Arizona will set you back by $145. This version of the two-strap shoe will definitely have you picking out polishes for your summer pedi and leave you ready to show off your toes. Perhaps you can match your lacquer to your shoes. Double the glitter is always a "do."
Both colors will work with plenty of pieces already in your closet. The silver is so glam.
Pretty in pink!
The Boston slip-on clog carries a $155 price tag. If you aren't ready for pedi season but still crave a dose o' sparkle, then these are the shoes for you. The Bostons only come in a silver glitter version. No pink shimmer for now.
Snazzy in silver. If you are a Boston or Arizona loyalist, well, you are about to enjoy some glimmer and gleam. Glitter makes everything a party and more playful.
Twitter was vocal about glitter Birkenstocks.
Nope, it's actually not… although we wouldn't have been shocked if it was indeed a prank. The shoes are on sale now.
This user noted that glitter-infused Birkenstocks aren't exactly new. There are children's versions with glittery straps. The metallic versions of the Arizonas also look lush and luxe. But the Opening Ceremony partnership and the name itself certainly adds a high fashion edge.
We have words — plenty of them. Like sparkle. And fun. And cute. But we totally get it if these shoes are so not your thing. After what felt like a super long cold weather season, filled with amazing boots and covered shoes, it really is time to prepare for some toe-baring! The Opening Ceremony x Birkenstock collab is here to usher in sandal season.
If you are not feeling glittery 'Stocks or they don't suit your personal aesthetic, you can still go for a fashion-y version. This blue-tinted, faux snakeskin pair is certainly more glamorous than the basic, brown leather styles. This edition comes in a variety of colors, including pink, black, and cream. It's an upscale-looking Birkenstock.
The metallic Bostons come in several precious colors — copper, silver, and anthracite. The texture and tones up the look and feel of this familiar and super comfy silhouette.
Birkenstocks are often basic and wearable. But they also avail themselves of fashionable, upcycled looks. The glitter version will definitely put a spring in your step.