Move Over Fidget Spinners, Fidgetland Is The Next Big Thing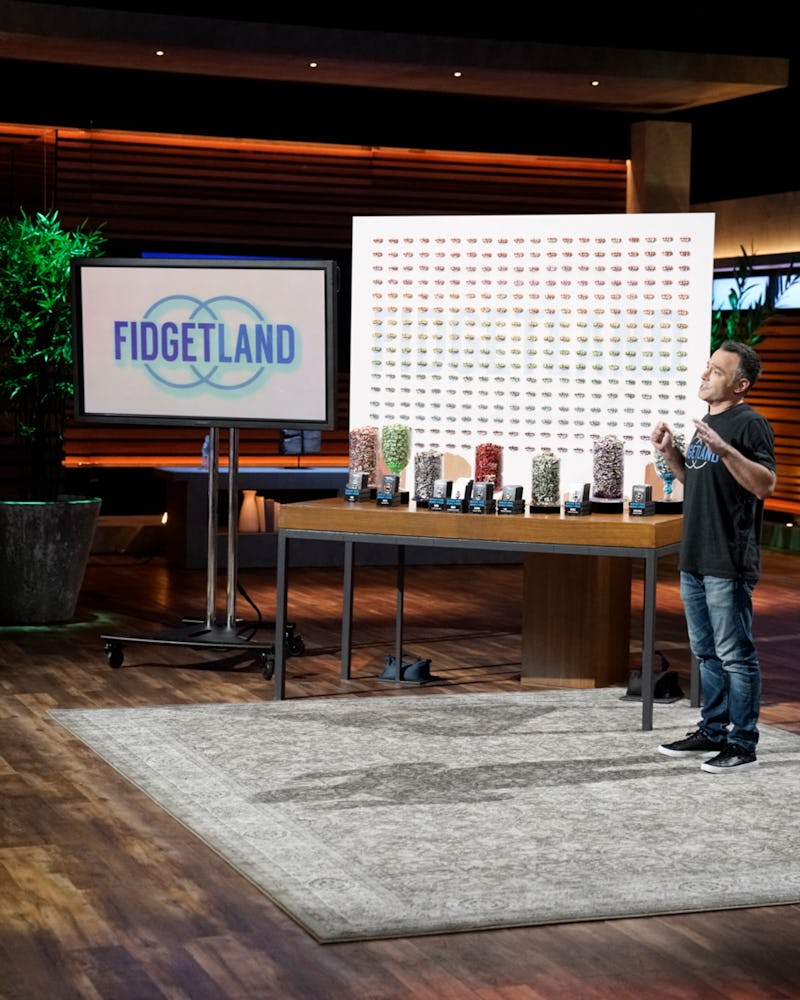 Michael Desmond/ABC
Unless you've been living under a rock for most of 2017, you'll know that fidget spinners are all the rage. These addictive toys give you something to do with your hands while you listen to a lecture or read a book, allowing you to get out some of your restless energy and pay better attention. But fidget spinners aren't the only product designed to help you concentrate. The company Fidgetland was featured on Shark Tank, and it looks like it's a dream company for people who just can't sit still.
Fidgetland doesn't sell fidget spinners, but their products, some specially designed for kids and others for adults, look like they have the potential to be just as addictive. Starting at prices as low as $8, you can peruse the Fidgetland website or their collection on Amazon to order the type of fidget you think will be right for you. Their designs feature interlocking rings connected with different links that you can roll around in your hands. They come in all different sizes, designs, and bright colors, so you can really look cool flashing that lime green fidget during your board meeting... or keep it discretely hidden in your pocket.
Click Here To Shop The Fidgetland Collection
Click Here To Shop The Fidgetland Collection
But products such as the ones sold at Fidgetland aren't merely toys. As the Fidgetland website states, "All of our fidgets are made with the same purpose: to improve people's lives by stimulating their mind and absorbing excess energy." And it's true that fidgeting can help improve concentration and ease some symptoms of ADD, ADHD, Autism, and other conditions. NPR reported that a study led by Dustin Sarver of the University of Mississippi Medical Center may show that for kids with attention disorders, fidgeting can actually help them concentrate on the task at hand:
The prevailing scientific theory on attention disorders holds that they are caused by chronic underarousal of the brain. That's why stimulants are prescribed as treatment. Sarver believes that slight physical movements "wake up" the nervous system in much the same way that Ritalin does, thus improving cognitive performance.
So fidgets aren't just meant to be a fun toy. They can potentially have a significant impact on concentration for people diagnosed with attention disorders. This seems to be an explicit part of the mission of Fidgetland. In fact, a whole section on their website is dedicated to "Fidgets For School," which features fidgets they have designed to be quiet and not distracting for the rest of the class. The website states, "Children have had tremendous success using our fidgets to overcome or cope with symptoms associated with: ADD, ADHD, ASD, Autism, Asperger Syndrome, Sensory Integration, Trichotillomania, SPD, Nail Biting, Thumb Sucking, Anxiety, Stress and Hair Twirling." These products could really help kids concentrate during class, and even retain more of the information they're learning during the school day.
But the challenge for Fidgetland might be competing in a market that is already saturated with fidget spinners. You can get fidget spinners at pretty much any gas station around the country, and Fidgetland might have a difficult time trying to compete with a product that already has so much national attention. Maybe the Sharks will have a plan for how to differentiate these fidgets from one another, and make Fidgetland competitive. After all, it sure seems like their designs are pretty intentional, and they are really seeking to help kids and adults with their concentration. And it doesn't hurt that they look super fun to play with.
So, don't feel any shame about heading to the Fidgetland site to snag one of those multicolored fidgets. They're good for your concentration! And, your boss will never know.