Sephora's In-Store Vacuum Treatment Is Only Available At Select Locations — And This Map Shows Where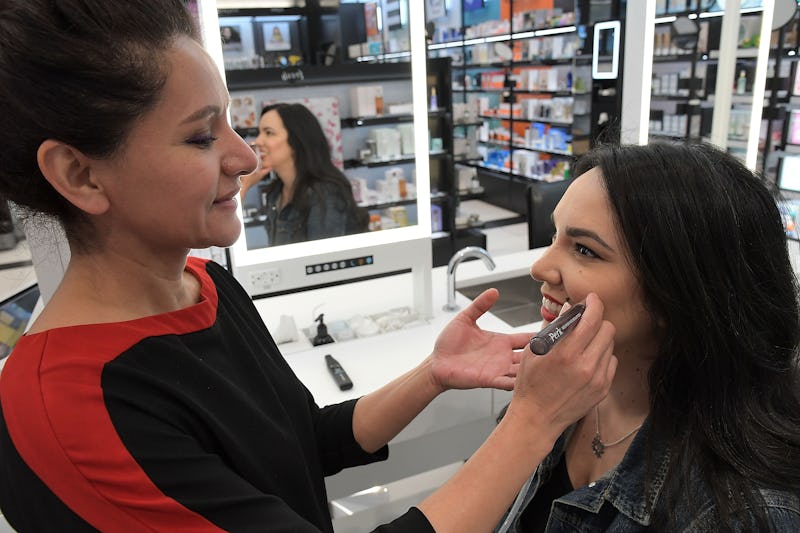 Charley Gallay/Getty Images Entertainment/Getty Images
Just when you thought Sephora couldn't get any better, the retailer ups their game. The purveyor of practically every high-end and luxury beauty product under the sun is now so much more than where your credit card goes to die. The Sephora in-store facial vacuum is here to withdraw junk from your pores just like their cash registers withdraw cash from your bank account (one just clearly markedly more pleasant than the other).
What exactly is the facial vacuum? Well, it's exactly what it seems to be, a machine that pulls out every last bit of junk lurking into those pesky pores that you try to cover with Benefit's Porefessional. However, the pore vacuum isn't the only thing you'll be getting down if you go in for the treatment. It's actually part of a larger facial system called the PERK Hydrating Facial.
Just like you can go into Sephora stores for make overs and beauty services, you can now go in and schedule a skin care service, that service is the PERK facial that comes with the pore vacuum treatment. The caveat here is that the facial is only available in about 100 stores nationwide. Don't cry, though. Sephora has made it easy to find out where to get one.
If an in-store skin treatment sounds ideal, all you have to do is head to Sephora's website and choose to book one. Once you do, you'll be directed to a page that helps you locate a store near you. Unfortunately, there may not be one, but it's a super easy and useful way to find out if you can head into your local Sephora to get your pores cleared out and your skin glowing.
If you are one of the lucky people who live close to a location that offers the PERK Hydrating Facial, what else is included because the grossest yet most fascinating tool around? It's honestly so much more.
The treatment is in collaboration with The HydraFacial Company, and it's designed to exfoliate, hydrate, and treat skin. Your moisture levels will be measured, your face will be cleansed, the vacuum is used, and then serums are applied to help treat any issues you may be facing.
How much will the PERK facial cost? It's free with a purchase of $75. While that may appear pricy at first, it's not just $75 for the facial and nothing else. You're getting whatever $75 worth of products you'd like from Sephora plus the 30 minute facial, so really, you really are getting a free facial alongside your beauty buys. Basically, save your empties, and when you're ready to stock up on your holy grail items, it may be the perfect time to try out the new treatment.
Perhaps one of the best attributes of the PERK Hydrating Facial is accessibility, a concept that seems to have inspired the HydraFacial Company to partner with Sephora on the service.
CEO for HydraFacial Clint Carnell explained, "We are thrilled to collaborate with Sephora on the next generation of skincare. The partnership makes on-the-go skincare treatments more accessible than ever. Clients that experience the PERK Hydrating Facial will leave Sephora with an instant glow."
If you want to take advantage of Sephora's latest skin care service, head over to the retailer's website now and use their locator feature to discover if the facial is being offered at a store near you. If not, there's always the hope that the treatment could see an expansion in the future. If you do have a store close by, today is your lucky day.