'Where Does Your Penis Belong?' Is A Parody Kids' Book For Grown-Ass Men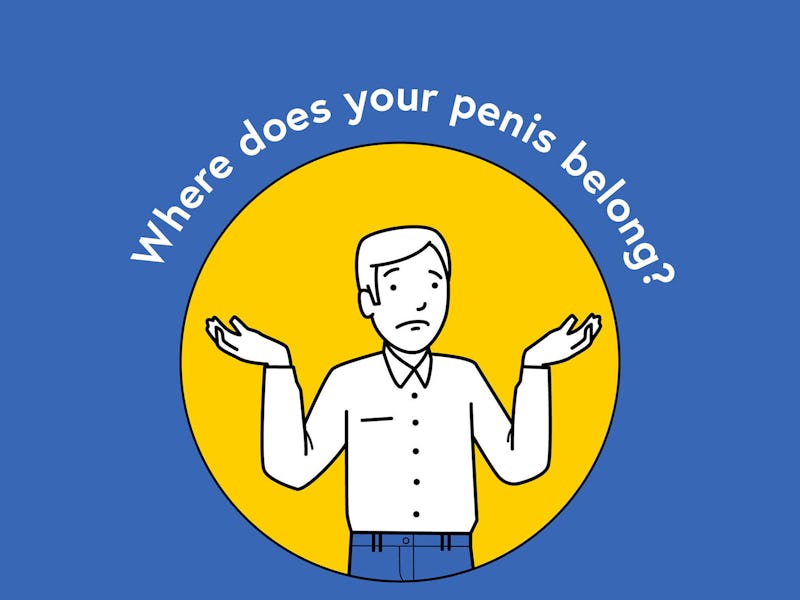 Ashley Simon, Allison Gore, & Isla Murray
Although the answer may seem painfully obvious to most decent people, it seems some men are still struggling to figure out: where does your penis belong? Luckily, there is now a hilarious and oh-so-necessary book that teaches men how to keep it in their pants.
Over the last few months, there hasn't been a week (or maybe a moment, which is how it feels) that goes by without new high-profile case of sexual misconduct making the headlines. It seems like across the board — in Hollywood, in the media, in Washington, D.C., and in everyday life — dudes are struggling to figure out what constitutes appropriate and inappropriate sexual behavior. Whether they are at work, interviewing someone on TV, shopping in grocery store, or riding on the subway, men are having a hard time keeping their genitalia to themselves, which is exactly what inspired Ashley Simon, Isla Murray, and Allison Gore to create a "children's book for grown ass men" that addresses that very issue. (Editor's Note: Murray is a former employee of Bustle, and Gore is a current employee.)
"We all felt angry and upset by the spate of sexual harassment revelations that have come out over the past few months," Simon tells Bustle. "And yet inspired by the work of writers like Jodi Kantor who have brought these uncomfortable truths to light. So the thought was, what can we do to contribute to the conversation? And humor just felt like the best fit for our sensibilities. Not to mention we were in dire need of some comedic relief."
Where does your penis belong? by A. Simon, I. Murray, and A. Gore, $24.99, Blurb
Where does your penis belong? does provide readers with plenty of laughs alongside some basic but apparently necessary tips about penis etiquette, like where it should be while you're waiting in line for Dashboard Confessional tickets or at the grocery store. But this children's book for grown-ups also draws attention to a central issue of sexual harassment and assault: men behaving badly. Unlike the typical discussions that develop around the topic which usually center on women's choices and actions,Where does your penis belong? is strictly focused on men fixing their bad behavior. Simon explains that the choice was a direct reaction to hearing the stories of people like Louis C.K. and Harvey Weinstein exposing themselves to women in outrageous settings, like offices and hotel rooms during meetings.
"It's just bizarre behavior that we thought everyone knew was completely inappropriate. Clearly not," Simon says, but she explains there was more to the issue than the glaringly obvious. "The other reason we chose to focus on men is that we feel the onus is on men to correct their behavior and call out the inappropriate behavior of other men. This is not a 'women's' problem."
According to Simon, the book only took two weeks to create. "Since this is such a timely issue we hustled to get it done as fast as possible." It was released on Thursday on Blurb, and since then, Where does your penis belong? has been getting a positive reaction from both men and women online. As many have noted, the book comes just in time for the holiday, and would make the *perfect* gift for all those confused, mixed up men in your life.
Where does your penis belong? by A. Simon, I. Murray, and A. Gore, $24.99, Blurb
In addition to their handy-dandy genitalia placement guide, the book creators also created a fun quiz that helps men learn valuable lessons about sexual harassment and assault — more specifically, where their penises go when they are in public. For those of us who know someone who needs to read this incredibly relevant book, but who are too shy to bring it up, the wheredoesyourpenisbelong.com website also lets you tweet it to someone anonymously.
If you think you know someone who might need a little help figuring out how to keep their genitalia to themselves, you can get a copy of Where does your penis belong? online. As if the genius subject matter isn't reason enough to buy it, 100% of the profits from each book sold will be donated to RAINN, the largest anti-sexual violence organization in the country.