Residents In This Texas City Are Begging For Help On Twitter Because They Can't Call 911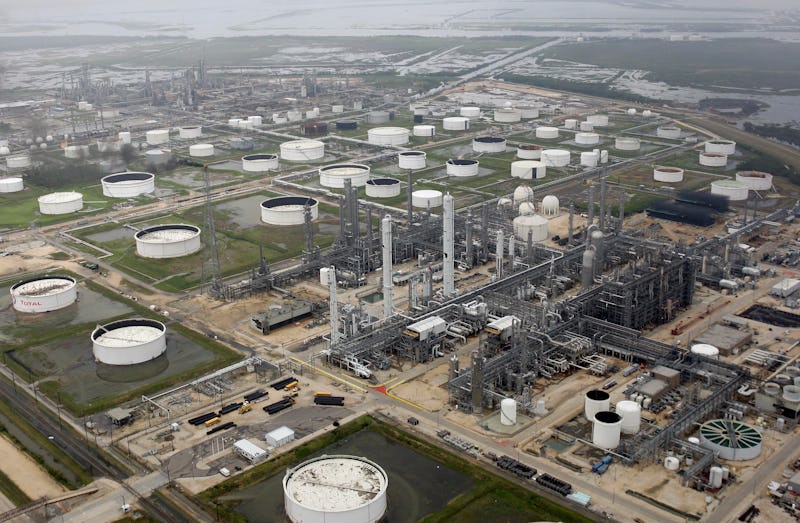 Pool/Getty Images News/Getty Images
The effects have been rapid and devastating since Hurricane Harvey made landfall on Friday night in Texas, submerging the greater Houston area in water and sending thousands of people to shelters. In the early hours of Wednesday, a flash flood emergency hit Port Arthur. In light of this emergency, many of those watching Harvey's development may be wondering where is Port Arthur, Texas? And what does a flash flood emergency mean for the storm's continued path?
Firstly, Port Arthur is located in Jefferson County in Southeast Texas, approximately 91 miles east of Houston. The city faced rapid emergency early Wednesday morning when residents found themselves standing in water after 10-15 inches of rain fell during a flash flood within the course of a few hours. The total rainfall in the Port Arthur area has reached between 35-40 inches, leaving many people effectively stranded in their homes until rescue crews arrive.
While many who were able to evacuate headed to the Bob Bower Civic Center for cover, early Wednesday morning an official announced the Port Arthur evacuation center would need to evacuate and move survivors into another safer fortress. Deputy Marcus McLellan said the latest Harvey development has buried the 911 system with calls — many of which are now being outsourced to the U.S. Coast Guard.
"We're getting 911 and rescue calls but there's nothing we can do," Jefferson County Sheriff Zena Stephens told KFDM county. "We can't take the boats out right now. The water is rising and it's coming there and it's no way to get to them."
The Mayor Derrick Freeman urged residents, if possible, to get themselves to rooftops or higher ground while waiting for rescue teams to arrive. "Part of our rescue team is now fighting an apartment fire and rescuing folks from the complex. And the lightning has slowed up some rescues, but they have NOT stopped," Freeman wrote on his Facebook page. "Our whole city is underwater right now but we are coming! If you called, we are coming. Please get to higher ground if you can, but please try stay out of attics."
In the absence of working 911 lines, many have been tweeting with the hashtag #PortArthur to ask for help. In some tweets, people are giving out their addresses to be rescued, in others, people are retweeting and signal boosting. Even more are responding with emergency numbers and resources.
On Wednesday morning, Motiva Enterprises began shutting down the Port Arthur refinery, due to the flooding conditions. In effect, this means the largest crude oil refinery in the U.S. will be temporarily halted — a huge issue for a city so heavily reliant on the oil industry.
At the time of writing, both the The National Weather's tropical storm warning and storm surge warning remain in effect for the Jefferson County. Hopefully, the rains will slow down and everyone can get to safety. In the meantime, city officials urge people to sustain their phone battery life as long as possible, and get themselves to higher ground.