Where Is The Women's March Taking Place?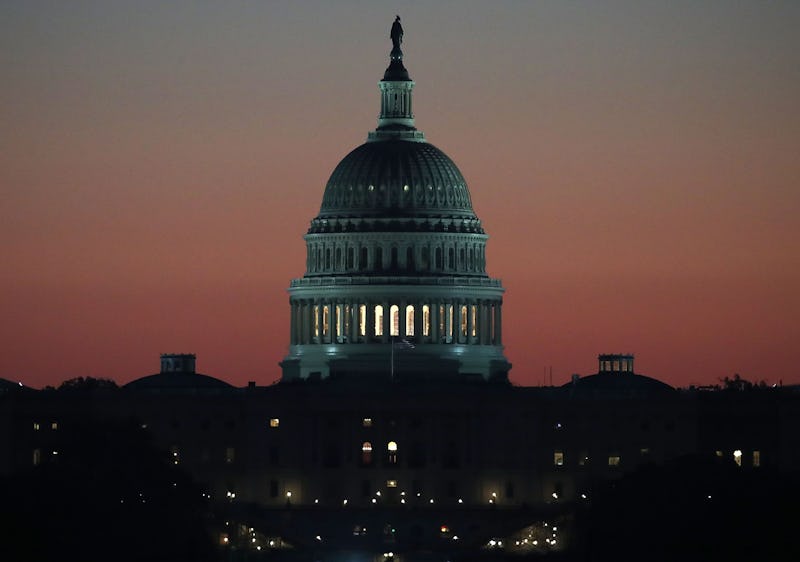 Mark Wilson/Getty Images News/Getty Images
On January 21, one day after Donald Trump's inauguration, many are expected to gather at the nation's capital for the Women's March on Washington. It's a demonstration built on the idea that we must stand together to champion diversity and send a message to our new government that "women's rights are human rights." The rally is already expected to have a huge turnout, with numbers reaching into the hundreds of thousands. So where is the Women's March on Washington taking place?
According to the organization, the starting point will be near the U.S. Capitol, at the intersection of Independence Avenue and Third Street SW. From there, the march will go west along Independence.
When it comes to rallies, location is obviously important. While the organizers behind the march originally wanted it done at the Lincoln Memorial, the National Park Service already secured that location and others, such as Pennsylvania Avenue and the Washington Monument, for inauguration festivities, reports The Guardian. But that doesn't mean a march down Independence won't be just as good. If you are planning to attend, the march is scheduled to begin at 10 a.m.
As Janaye Ingram, the head of logistics for the march, told the Washington Post in December, "Ultimately we want to have the attention focused on Congress and lifting up our concerns to them." By marching in front of the Capitol Building, organizers hope their message of women's equality will be seen and heard by "all levels and branches of government."
If you aren't anywhere near D.C. and can't make the event, don't worry. Sister marches are also taking place as solidarity events inspired all over the U.S. and the world, in countries like England, France, Germany, and Spain. Nearly every state has a sister march, so you can lend your voice and stand in solidarity from wherever you are.
The truth is, we don't know what's in store for us with our new government. But if we stand together and not allow fear to silence us, we'll do just fine. The Women's March on Washington is an important starting point to let that message be heard.