This Rebellious T-Shirt Collection Supports Human Rights Activists All Over The World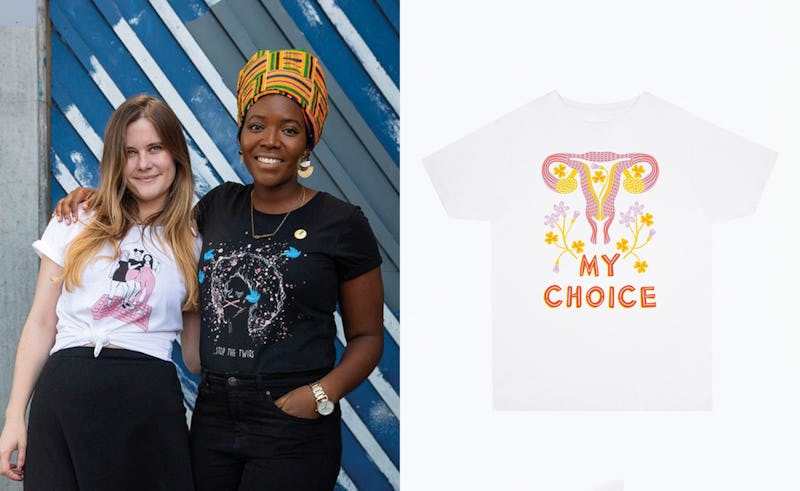 Everpress/Amnesty International
This year marks 100 years since (some) women were given the right to vote in the UK. To celebrate the people who fought before us, human rights organisation Amnesty International has teamed up with Everpress and nine female or non-binary artists on a series of powerful tees. If you're wondering where to buy Amnesty International's women's rights T-shirts, you'll be pleased to know that they're easily available online to anyone in the UK.
Each of the nine designs can be bought straight from Everpress. Costing just £25 each, it's a worthwhile investment considering 50 percent of the profits will go towards helping Amnesty International defend human rights activists across the globe. "Sexual harassment, the denial of reproductive freedoms and gender-based online violence are just a few of the abuses women, trans, and non-binary people face every single day. But around the world people are rising for their rights," Kate Allen, director of Amnesty UK, said in a statement.
"The movement for gender justice and equality is strong, powerful, brave, courageous and determined. We're delighted to be collaborating with Everpress and this exciting group of artists to create a range of T-shirts so that people can wear their rebellion, protest, or statement with pride."
The collaboration forms part of the organisation's Write for Rights campaign which gives members of the public the chance to send a message to a human rights campaigner who is facing threats — both to their life and liberty — for their work.
Every single T-shirt deserves a place in your wardrobe. From proclaiming that the future is queer to reminding everyone that what a woman does with her body is her choice, each artist's illustration will definitely spark conversation.
Alice Skinner, co-founder of activist community The Pink Protest, has designed a literal representation of keyboard warriors. "I have formed and am part of so many incredible online spaces for women online, who always have each others' backs, and I thought my illustration would be a great way to demonstrate this allyship and women coming together on the internet to help create communities," she told Everpress.
Fellow artist Bambi, who rose to fame after switching La La Land's Emma Stone and Ryan Gosling for Lie Lie Land's Theresa May and Donald Trump, has sketched one of the most recognisable faces of the women's suffrage movement: Emily Davison. Describing Davison as her hero, Bambi told Everpress that "she was a woman of almost unimaginable courage who repeatedly ran the gravest personal risks in pursuit of the campaign for women's votes and tragically lost her life for the cause."
Camilla Perkins' T-shirt showcases a uterus alongside the words "My Choice." She explained how things like pregnancy and birth are the "most physically and emotionally demanding experiences in a woman's life," stressing her shock that Northern Ireland still doesn't allow women "safe and free access to abortion services."
Another striking design comes from Jacob V Joyce. Simply stating "The Future Is Queer," it features a pair of hands with its nails decorated with queer symbols. Joyce wants the tee to be an "invocation of change, LGBTQIA empowerment, and criticality of the creeping rise in white supremacist, hetero-patriarchal, ableist values."
You only have until November 26 to pick up one, or more, of the decidedly feminist T-shirts. Standard sizes range from small to 2XL. However, Everpress states that sizes up to 5XL may be available on request.
It's not often that you get to advance the equal rights cause with your clothes, so take this opportunity to wear your opinions loud and proud.