Where To Buy Ashley Stewart's New Bralettes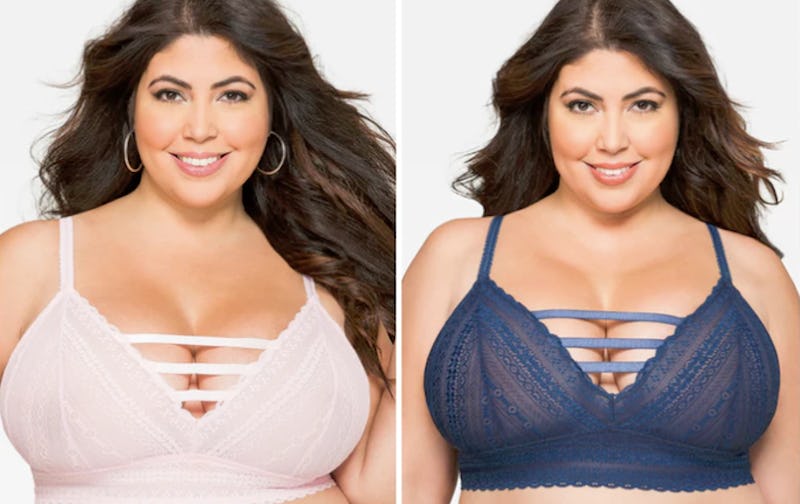 Bralettes are so cute, and they look so soft and comfortable. Unfortunately, they're largely a straight-sized, small busted woman's game. Or, at least, they were. We have only to look to the Ashley Stewart plus size bralette launch for proof that the plus size bralette game is changing. On January 30th, 2017, the brand is launching plus size bralettes that promise to "provide comfort and support while maintaining a natural and sultry look." Support is the name of the game when you have bigger bust, and that's challenging to find in a bralette.
This particular line is made to be supportive, up to size 4x, which is roughly size 26/28, or a 53.5 inch bust. They're 90% nylon 10% spandex, so they'll hold their shape enough to provide support, but move enough to be really comfortable. Oh, and the straps are adjustable, which is always a bonus. When you hear about plus size, supportive bras, you have to worry that they have one cup in your grandma's top drawer. It's just true. We're not always treated to the sexiest styles. These bralettes do not look like unflattering styles of the past at all. They're just as lacey, strappy, and sexy as smaller bralettes. That's pretty exciting. Take a look:
Longline Lace Bralette, $30, Ashleystewart.com
These bralettes handle bigger busts without wires, plastic frames, metal contraptions, or sorcery. They look like a dream. They look like clouds for your boobs. I want to live in a world where my boobs are supported by clouds, don't you?
Strappy Lace Bralette, $30, Ashleystewart.com
Aside from looking comfortable, I love that they look sexy. Look at those strappy parts there in the cleavage. I love it. Comfortable, sexy, and supportive is the trifecta. Put this in the win column for all of us plus sized, or bigger busted beauties everywhere.
If you want to get your hands on these babies, they're only available in one place, and that's at the Ashley Stewart online store. They will run you about $30, which is a small price to pay for all your bra hopes and dreams coming to fruition.
Images: Courtesy Brands