Where To Buy Cult Gaia's Bamboo Purses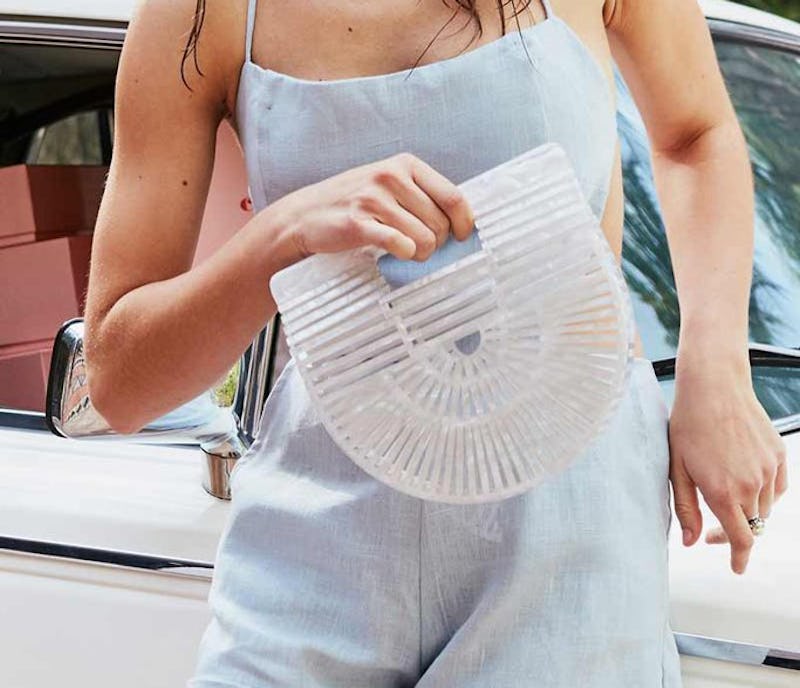 If you have an Instagram account, chances are you've seen Cult Gaia's bamboo purses. Bloggers are obsessed with them, and they instantly became a cult favorite (which is fitting since their name is Cult Gaia). Since the initial launch of the classic Gaias Ark bag, Cult Gaia has come out with a few more designs, ensuring that they will for sure have the "it" bag of summer 2017.
The Gaias Ark clutch now comes in a few new finishes, aside from the classic bamboo color, including lucite mother of pearl, black acrylic, malachite acrylic (which looks absolutely dope) and a dark finish. Bloggers like Jennifer Lake of Style Charade, Kathleen of Carrie Bradshaw Lied, and Missy Ulmer of Sapphire Diaries have all been sharing snaps of this coveted bag.
Mother of Pearl, $298, Cult Gaia; Black Acrylic, $298, Cult Gaia; Malachite Acrylic, $298, Cult Gaia
Cult Gaia has also released a new bamboo bag just in time for summer called the Lilleth Bag, which is a cylinder shaped purse that can actually collapse so it will lie flat in your suitcase for your summer adventures, which is awesome.
Lilleth Bag, $272, Cult Gaia
The Lilleth bag will make an absolutely perfect beach bag, because you'll be able to carry it around without worrying about it carrying around sand since any sand will obviously fall through the cracks. The Lilleth bag costs $272 and is available for preorder now on cultgaia.com, but you'll have to wait until the end of June for it to ship. However, knowing how quickly Cult Gaia's bags sell out, you'll probably want to order this one ASAP.
The classic Gaias Ark bag can also be purchased on cultgaia.com.
Gaias Ark Dark Stain, $128, Cult Gaia
Whether you get the Gaias Ark or the Lilleth bag, you can guarantee that you'll be looking like an Instagram star.
Lilleth Bag, $272, Cult Gaia
So head to cultgaia.com to get your hands on 2017's "it" bag.