Halloween-Themed Skittles Sound Like They're Going To Win The Holiday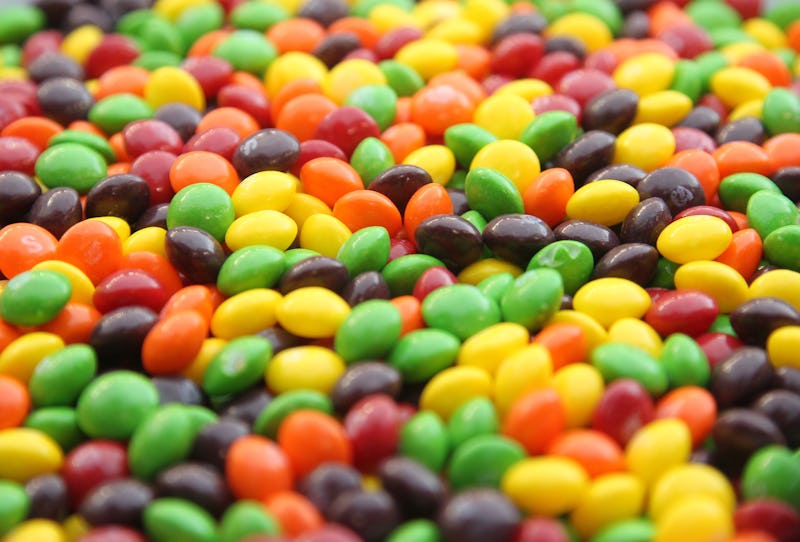 Otto Greule Jr/Getty Images Sport/Getty Images
From maple coffee to pumpkin-flavored candy, the beginning of fall has already brought us several yummy flavors — and now, there's yet another seasonal treat to add to the list. Skittles is debuting two new, limited-edition Halloween-themed flavors, known as Cauldron and Trick Plays. The novelty candy, which is perfect to hand out to trick-or-treaters (or let's be real, to eat all by yourself) will be hitting only select stores this month. So where can you buy Skittles' new Halloween flavors? Well, here's where you can go to stock up.
Cauldron, the first flavor, is returning to shelves after initially making its debut last year. Those who buy a bag will be treated to a mixture of five different, fruit-flavored Skittles: Lurking Lemon, Petrified Pear, Twisted Tangerine, Bogey Berry, and Gripping Grape. Sounds spooky but delicious!
Skittles Cauldron 2 Ounce Pack, $5, Walmart
Meanwhile, the second new release, Trick Plays (which is in honor of the NFL and football season), sounds even more fun and definitely lives up to its name. As explained on the package, the candy plays tricks on your senses, with the colors of the candies failing to match the actual flavors. For example, a red Skittle may look like a strawberry or watermelon-flavored candy, but it might taste very differently. It's a risky treat to indulge in, but perfect if you like taking chances with your snacks — or maybe just playing a fun trick on your friends.
Food blogger CandyHunting has shared a first look of the packaging for the new treats. As you can see, the Halloween-themed Skittles is marked with "Cauldron," which is pretty fitting:
So where can you go to get your hands on these Halloween-themed Skittles? According to Delish, the candies are probably a limited release, so you likely can't get them year-round — but as Candy Hunting notes in the Instagram above, you'll likely be able to nag a bag or two of the Cauldron or Trick Plays Skittles (or both!) at Walgreens.
Skittles is the latest candy brand to get in on the Halloween-themed trend with these two new flavors. Kit-Kat recently unveiled a pumpkin-flavored version of their classic chocolate wafers that are perfect for fall and which you can find at your local Kroger or other Kroger-owned franchises.
Or, if you really want to go all out with your seasonal treats, you can also head on over to Target to pick up some pumpkin pie M&Ms and bat-shaped Reese's peanut butter cups. Hey, if you're going to go for Halloween-themed sweets, you might as well go big, right?
The autumn-inspired flavors aren't just limited to candy. In addition to the annual return of the much-hyped pumpkin spice lattes, there are plenty of other festive goodies to enjoy this season. Case in point: Earlier this month, Krispy Kreme temporarily brought back its pumpkin-flavored original glazed doughnut, albeit for only a short period time of 24 hours.
And even Disneyland is jumping on the bandwagon. Restaurants at the theme park are currently serving Candy Corn-flavored soft serve ice cream, which sounds like the ideal refreshing treat to enjoy on one of these balmy early fall nights.
Obviously, there is no shortage of seasonal treats to choose from these days, so candy lovers and snack enthusiasts everywhere can take their pick! Whether you prefer pumpkin-infused, Halloween-themed, or a more unpredictable, free-for-all, like the Trick Plays Skittles, you're sure to find some sort of goodie that will not only satisfy your sweet tooth, but also make you feel excited about the autumn months ahead.
After all, nothing will get you feeling happier about the beginning of fall (and less sad about the end of summer) than a pumpkin spice latte and some Halloween candy!