This Unisex Skin Care Line Is A Minimalist Beauty Lover's Dream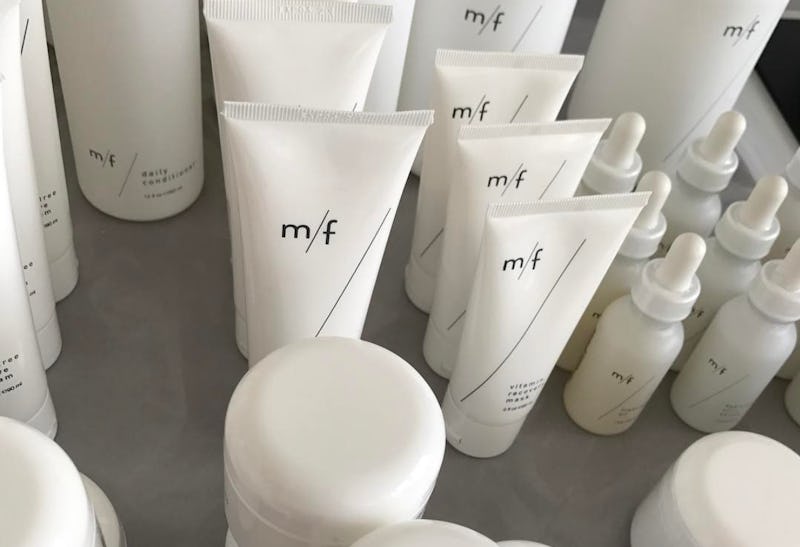 Instagram/@mfpeople
Imagine a world where both men and women could shop for minimalist-focused clothing and beauty products in the same store, free of boundaries and gender norms. While it's not a typical brick-and-mortar shop, m/f people is a new fashion and beauty brand that defines itself as a "one stop shop" for both men and women's minimalist fashion, lifestyle, and beauty items that are cruelty, gluten, dye, and paraben-free.
Sounds like a dream, right? Not only are the clothes and beauty products both for men and women, they also have the most minimal design and look to them — the beauty products are in all-white bottles with the sleek black text. It's a type-A person's dream!
The brand intends to make life simple for all people, that's why their skin care line includes a range of products (just the necessities, of course) including shampoo, face wash, a body scrub, a body wash, several eye and face creams, toothpaste, a shaving cream, and even a charcoal mask.
One of the brand's philosophies points out that "minimalists buy possessions carefully," and if you love minimalist things, you know it's all about quality rather than quantity.
Imagine how lovely a cabinet full of m/f would look! Here are several items you should definitely scoop up and add to your beauty regimen.
1. Face Wash
m/f Face Wash, $24, mfpeople.com
This light gel facial cleanser is perfect to use day and night for any type of skin.
2. Vit-K Eye Cream
m/f Vit-K Eye Cream, $44, mfpeople.com
This powerful eye treatment helps combat dark circles and puffiness.
3. Charcoal Mask
m/f Charcoal Mask, $38, mfpeople.com
The charcoal clay helps rid of impurities by opening your pores and absorbing excess oil.
4. Glycolic Herbal Toner
m/f Glycolic Herbal Toner, $22, mfpeople.com
After cleansing your skin, you can use this toner to help soothe and fight redness.
5. Body Wash
m/f Body Wash, $20, mfpeople.com
Aligned with m/f people's core values, the body wash has a gender-neutral scent.