Julia Engel From Gal Meets Glam FINALLY Released Her Dress Line & It's SO Posh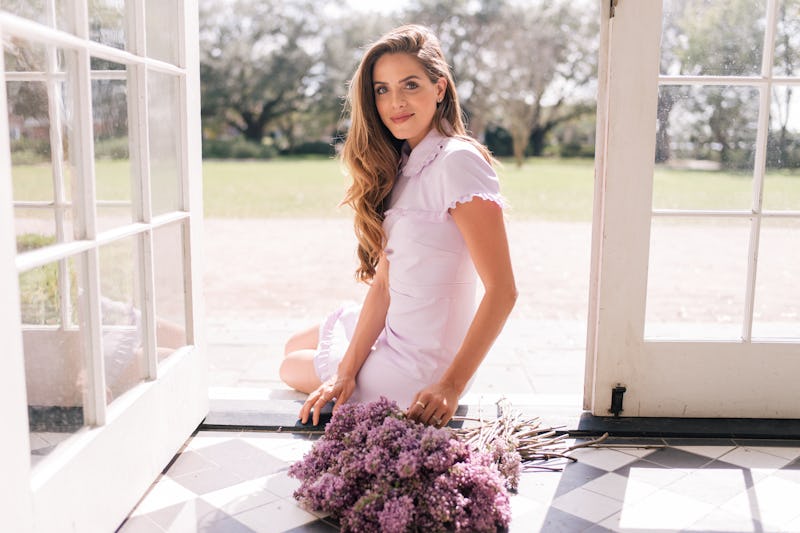 Courtesy Gal Meets Glam
Move over little black dress, because this collection will make you want to brighten up your closet. Blogger Julia Engel, AKA Gal Meets Glam, created a dress collection that will bring out your feminine side. The line might be made up of one type of clothing item, but you'll find something for every occasion.
Dresses are a wonderful thing. You slip them on, don't have to worry about matching a top and bottom, and instantly look like you tried really hard. This fashion blogger is here to celebrate them for all their feminine glory. Engel created 25 dresses for limited run collections dropping every single month. Each one perfectly encapsulates Engel's feminine, easy style.
"Wearing dresses isn't just about the fabric or cut, it's about the feeling I get when I wear one...from the moment I slip it on, style and sophistication become effortless. My workday or date-night is instantly romanticized by the confidence I feel walking out the door," says Engel in a press release.
This woman is passionate about dresses, and the collection proves it. The fashion blogger behind Gal Meets Glam created everything from off-the-shoulder and halter styles to A-lined dresses and V-necks. Each one is made of high quality fabrics, which you can tell just from first sight.
Each dress ranges between $138 and $198. That's not exactly the most affordable, but this is also not your average collection. Between the high quality fabric and the stunning prints, this is the spring splurge that will instantly elevate any occasion.
You can buy the 25-piece collection from the Gal Meets Glam website right now. It just launched on Apr. 20, and the brand is giving away a free silk scarf with the first 200 purchases, according to the Instagram post. You can also shop the collection at 40 different Nordstrom stores in-store and online.
"We know our customers love Julia and are excited to see the Gal Meets Glam collection come to life in our stores and online," said Tricia Smith, executive vice president and general merchandise manager of women's apparel for Nordstrom, in a press release. "It's brands like this that allow us to continually bring newness to our customers and give them a sense of discovery."
Each dress is available in sizes 00 to 20. That's not the most inclusive collection ever, but it is a great range to start from. You also won't have to pay more for for the larger sizes in the collection either. Bustle reached out to see if the brand plans to expand the size range as the time goes on.
The only catch is that this collection won't be around for long. That means you won't get a lot of time to save up for each style. The 25-piece collection will only be available for a month before the next drop of dresses comes out. After that, the gorgeous items will be gone for good.
According to the press release, this collection is three years in the making. The idea was for Engel to combine her personal, ultra-feminine style for her blog readers and beyond to enjoy.
"My inspiration came from my love of travel and adventure, but mostly the fact that it shouldn't be difficult to find feminine dresses that inspire — our April collection works to change that."
As of right now, the brand just offers dresses — Engel's signature. Fingers crossed that they also expand to shoes and accessories, because this woman knows how to dress. Stop what you're doing and get to shopping, because a collection like this won't last for long.