Every Royal Baby Has Worn Literally The Same Thing During Their First Appearance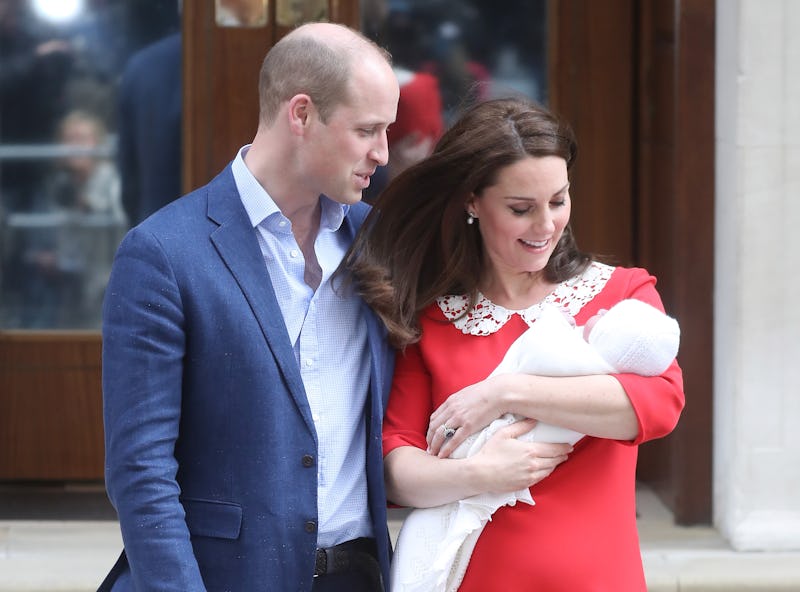 Chris Jackson/Getty Images Entertainment/Getty Images
There's a lot going on for the royal family this year, where they are not only prepping for a wedding in May between Prince Harry and Meghan Markle, but a new family addition. The Duchess of Cambridge, Kate Middleton, gave birth to a son on April 23, Kensington Palace announced. And fashion lovers everywhere are already wondering what will be baby number three's first outfit.
Kensington Palace announced the news on their official Twitter account, sharing that the couple welcomed a baby son weighing 8 pounds, 7 ounces, at 11 a.m. local time, and that both mom and baby are doing well. Soon after that they tweeted, "The Queen, The Duke of Edinburgh, The Prince of Wales, The Duchess of Cornwall, Prince Harry and members of both families have been informed and are delighted with the news."
Middleton attended her final royal appearance back in March before giving birth, retiring from the public eye for a month as she prepared to welcome her newest addition. In that appearance, she participated in a variety of different events that were hosted in celebration of the 2018 Commonwealth Games that were held in Australia, but soon after went back to her residence to rest. However, on Easter she was spotted attending a service at Windsor's St. George Chapel with the extended royal family (which is the same chapel where Prince Harry and Meghan Markle will marry,) but other than that she has been spending time with her family in Kensington Palace.
Which makes her first public outing with her newest son all the more exciting. The world has been deprived of her amazing fashion sense, and we will not only get a glimpse of her first outfit choice, but also the baby's.
While an announcement of the baby's name has not been released yet, the first photos of the happy family have been. Middleton stepped out of the hospital wearing a red quarter-length sleeve dress with a lace peter pan collar, and the son in her arms was dressed up in a white, lace-edged blanket with a knit bonnet.
Back in 2013 when Prince George was born, Middleton posed for photos in front of the hospital wearing a baby blue shift with cap sleeves from the designer Penny Packham, which featured cheerful white polka dots. It was comfy and stylish all at once, and Prince George was swaddled in a white blanket with lace detailing. The blanket was provided by GH Hurt & Son, who has provided baby blankets to the royal family for 69 years, where the first was gifted in 1948 for Prince Charles.
Underneath the lace was a blanket with a bird motif on it, which was a muslin wrap by Brooklyn-based company Aden + Anais. As you can expect, it sold out just minutes after the Duchess left the hospital. In fact, the brand shared with ABC News that over 10,000 orders were placed right after the first snapshots were shared, crashing their site.
That particular piece is part of the store's Jungle Jam Swaddle Classic Muslin Collection, which is a four-pack of blankets that retail for $50. (And you can still get them today!)
Two years later when Princess Charlotte was born, Middleton left the hospital wearing another sunny shift, opting for happy and bright colors. She greeted fans in another Penny Packham dress, which had three-quarter sleeves and an ombre design. It was yellow at the top of the dress thanks to the marigold flower motif, which faded away into a crisp white color towards the hem, where the flowers petered off.
Princess Charlotte was swaddled in a lace blanket of her own, and also wore a knitted cream bonnet on her head. Princess Charlotte's blanket looked to be the same as her brother's, where it was confirmed that she was wrapped in a GH Hurt & Son overlay — the "Elegant Soft Wool Baby Shawl" to be exact. It retails for approximately $103. Meanwhile, if you're curious about the bonnet, it is a handmade wool piece by Spanish baby goods designer Irulea.
While the exact details of baby number three's outfit aren't confirmed yet, from the looks of the royal family's appearance in front of the hospital, the lace edging looks very similar to Princess Charlotte's baby blanket, and could be the "Elegant Soft Wool Baby Shawl" used again. If not, it's still a safe bet it is a blanket from GH Hurt & Son, since using those wraps is a royal tradition. Word on the bonnet hasn't been released yet.
You can bet that once the brands and designers are known their items will sell out quickly. Thus is the power of the royal family.