Where To Buy The Official Red Baywatch Swimsuit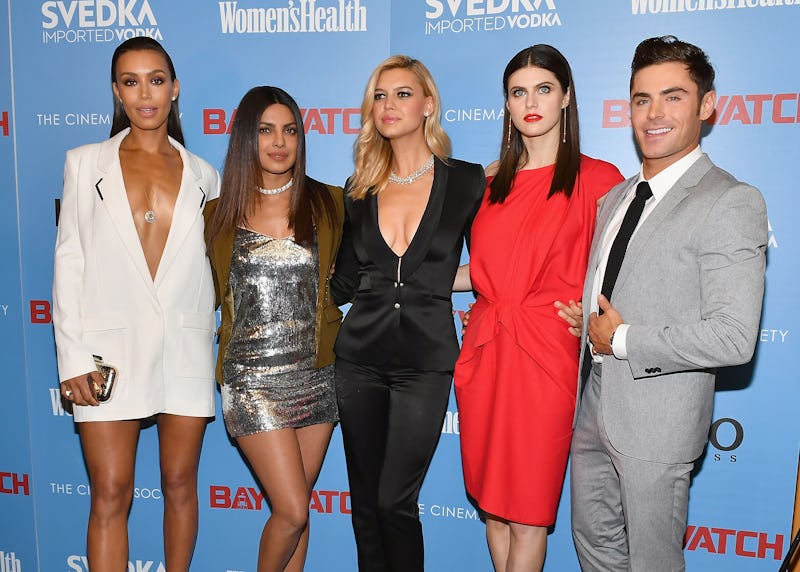 Dia Dipasupil/Getty Images Entertainment/Getty Images
Everyone recognizes the infamous red one piece swimsuit from the original Baywatch. Now that the classic tv show is getting a movie revamp, you'll be seeing the Baywatch red one piece everywhere, thanks to Tipsy Elves' Baywatch collection, which is filled with pieces very similar to those worn by Priyanka Chopra and Kelly Rohrbach in the Paramount film.
Tipsy Elves and Paramount Pictures teamed up to create this collection of official Baywatch clothing, so you know it's legit.
The Baywatch collection consists of a one piece red swimsuit (obviously), blue and red swim trunks, a windbreaker jacket, and a red and navy two piece swimsuit. The collection is actually quite affordable — the red one piece swimsuit and the two piece suit only cost $38, which is actually pretty great for swimsuits — and the most expensive piece is the windbreaker, which costs $78, but still, not terrible for a jacket.
So if you're a Baywatch fan, or even just looking for the perfect red one piece (because let's face it, one pieces are super in demand right now) you might want to check out this official Baywatch collection. Plus, you can get a free movie ticket for Baywatch if you buy a piece from the collection, so that's a win.
Baywatch One Piece Halter Top Swimsuit, $38, Tipsy Elves
The zipper is a nice touch.
Baywatch Two Piece Halter Top Bikini, $38, Tipsy Elves
The Baywatch movie, which stars Zac Efron, Dwayne Johnson and Priyanka Chopra, among others, hits theaters May 25.
You can shop the collection on Tipsyelves.com.