Where To Find Chocolate Peanut Butter Twinkies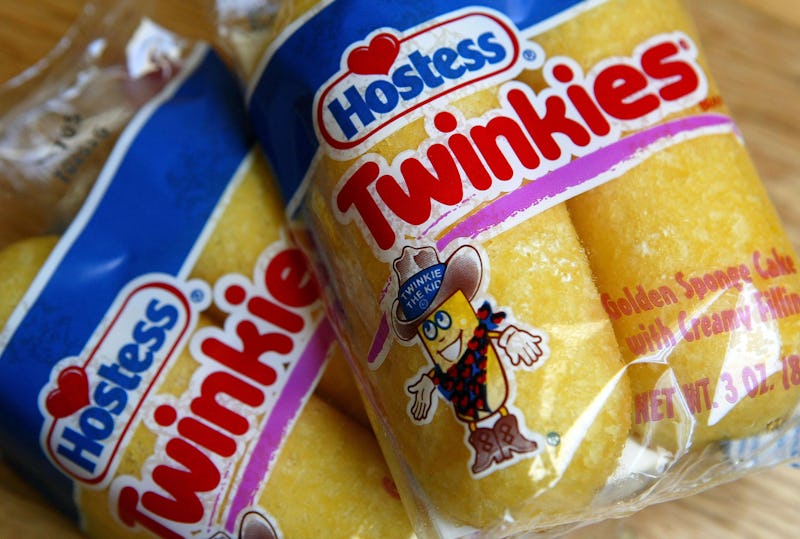 Justin Sullivan/Getty Images News/Getty Images
If ever there was proof that times are a-changing, it would be the new chocolate peanut butter Twinkie. Unlike many other prepackaged snacks, the American icon has remained largely the same for decades at this point: a bright yellow sponge cake filled with vanilla creme. In fact, maybe that's why everyone believes that the snack has an infinite shelf life. There have been some variations over the years — including a pumpkin spice flavor, natch — but for the most part, a Twinkie from the '50s is pretty much the same as a Twinkie you can get at the corner store today. Well, until now. According to BuzzFeed, there's a new Twinkie flavor in town. That's right — chocolate peanut butter Twinkies are being released nationwide over the next few weeks. So, I'm sure you're probably wondering where to find chocolate peanut butter Twinkies, now?
This is huge news, people. Chocolate peanut butter is the single greatest flavor combination known to man, and now that it's joined forces with the nostalgic appeal of the Twinkie, 20-somethings everywhere will be helpless against the pull of the snack aisle. How are we supposed to resist what appears to be the product of the union between a Reese's cup and a Twinkie?
As you can see in the package pictured above, the Twinkies appear to be made from chocolate cake with peanut butter creme filling. Like traditional Twinkies, they come individually wrapped, presumably because Hostess likes to pretend consumers don't eat them all in one fell swoop. What a nice thought.
So how soon can you get your eager hands on the new treats? The new Twinkies have already been shipped to groceries in some cities, and a spokesperson for Hostess told BuzzFeed Food that they'll spread to the rest of the nation "in the coming weeks." It's kind of a nebulous timeline, but it's not like my fellow junk food junkies are going to forget to keep an eye out for them this summer. As soon as they hit the shelves at my grocery store, I'll be there, cash in hand. Judging from the online reaction so far, I won't be alone.
Although Hostess doesn't tend to mess with their Twinkies often, this appears to be changing. Chocolate cake Twinkies were released in April this year, and the Hostess Brands Senior Vice President and Chief Marketing Officer told ABC7 Chicago that the new chocolate peanut butter flavor is part of an effort to "embrace consumer flavor trends."
Does that mean we'll start seeing oddball flavors like banana split or fruit punch in the future? We'll have to wait and see. In the meantime, you can find me staking out the snack aisle in every grocery store within a three-mile radius until I get my hands on the newest Twinkie flavor.