Pumpkin Pie Kit Kats Exist Now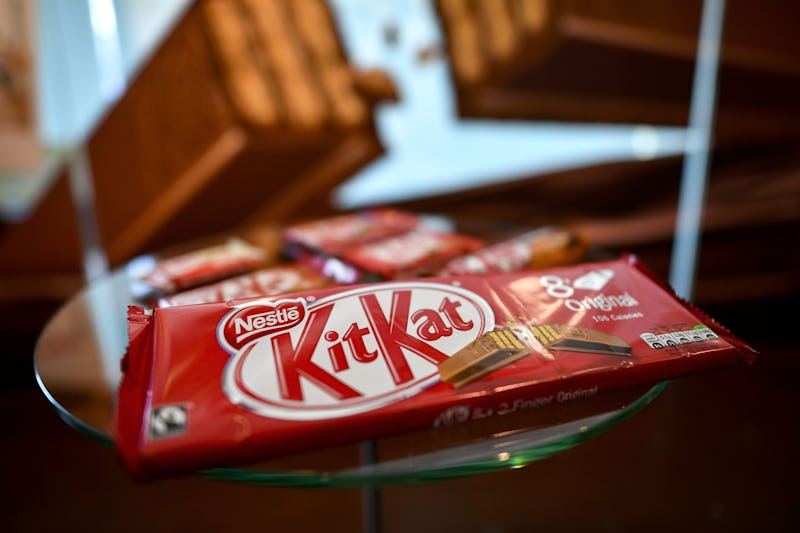 FABRICE COFFRINI/AFP/Getty Images
The first day of fall technically isn't until Sept. 22, but chocolate lovers are getting an early start on the season thanks to Kit Kat. The company has just released a brand new pumpkin pie-flavored Kit Kat — the perfect, tasty snack to ring in sweater weather. Luckily, you don't have to wait to get your hands on them. These delicious treats are already in stores, and here's where you can find them.
Kit Kat's latest pumpkin pie treats are blowing up on Instagram — and for good reason. As detailed on the package, the new candy is made of the same crispy wafers that you've always loved, but coated in a yummy, pumpkin pie-flavored creme. Just the right flavor to munch on while you're enjoying the cooler weather in a scarf and boots (or waiting in line for your pumpkin spice latte).
So where exactly can you find this autumn-themed snack? The food Instagram account Candy Hunting found a bag at Wisconsin-based grocery chain, Pick N' Chain. Meanwhile, Junkbanter nabbed a bag at the Kansas-based Dillons. Both food chains are owned by The Kroger Company, so it's likely you may be able find them at your local Kroger and many of the franchises owned by the company.
This isn't the first favorite candy to jump on the pumpkin-flavored bandwagon this year. If you really want to go all out with your seasonal treats, head on over to Target where you can also buy pumpkin pie M&Ms and bat-shaped Reese's peanut butter cups.
It's official: The leaves may have not started changing colors yet, but the candy forces that be have already declared it fall.