Where To Protest The Muslim Ban Around The Country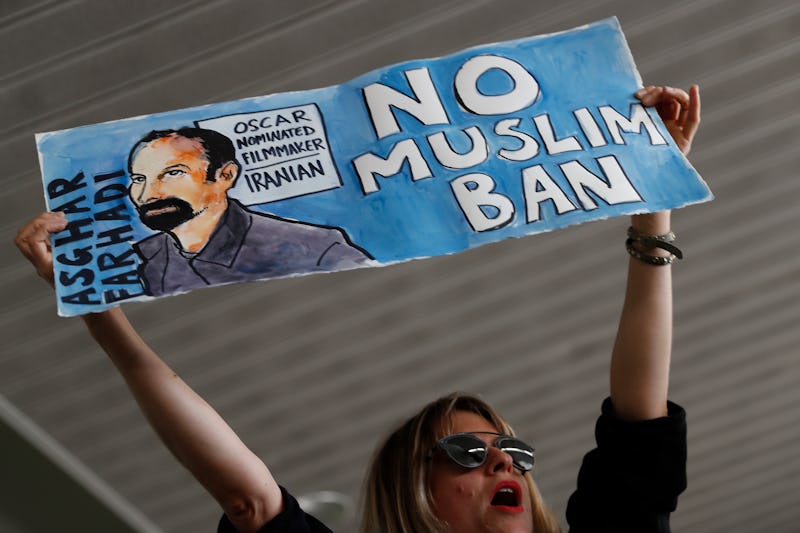 Stephen Lam/Getty Images News/Getty Images
When Donald Trump signed an executive order on Friday indefinitely banning Syrian refugees and temporarily banning immigrants from seven majority-Muslim nations from entering the U.S., protests broke out around the country at airports where people were being detained. If you're wondering where to protest the Muslim ban because you want to lend your voice and support to the cause, the best bet is to head to an international airport near you. Though a federal judge from the eastern district of New York issued a stay against the executive order on Saturday night on behalf of two Iraqi men held at the airport, the issue still needs widespread support.
The largest protests on Saturday took place at JFK airport in New York City, as well as at airports in San Francisco, Denver, Atlanta, and Chicago. While protestors celebrated when news broke that a stay against the order had been achieved, more protests are still planned for Sunday. Those planned are still underway, even though a federal judge has intervened on behalf of the detained people — the issue is not resolved, so these protests are no less crucial.
ThinkProgress has compiled a comprehensive list of protests around the country planned for Sunday, and they are scheduled to take place everywhere from airports to city halls to congressmen's offices.
On Sunday, protests were also planned at several airports, including Los Angeles International, Raleigh-Durham International Airport in Morrisville, North Carolina, and Dulles International Airport near Washington, D.C. Pack Square Pavilion in Asheville, North Carolina, the Capitol Building in Tallahassee, Florida, and Virginia Commonwealth University's Compass Plaza in Richmond would also see protestors. According to another Facebook event page, protestors planned to gather at Discovery Green in Houston, Texas, on Sunday afternoon.
In addition to the protests scheduled to take place over the weekend, demonstrations were also planned for the week ahead. In North Carolina, a group of Duke University students planned a peaceful protest for Monday evening at the Duke Chapel. An organization from the University of Pennsylvania law school planned a phone bank event in Philadelphia for Monday. On Wednesday, a group of protestors could gather at Florida International University's Graham Center in Miami, and on Friday, protestors planned to flock to the Dayton Courthouse Square in Ohio.
Though the injunction issued against the ban is a victory, it does not solve the problem in the long term. The director of the ACLU's voting rights project, Dale Ho, tweeted on Saturday night that the stay was national, and that no one can be removed from the country and the government must provide the names of the people affected. However, this stay only covers people who were in transit and are currently being detained at airports — it by no means dismantles the ban entirely. The need for protest is far from over.