Here's Where Tropical Storm Florence Will Hit — And Just How Powerful It Could Be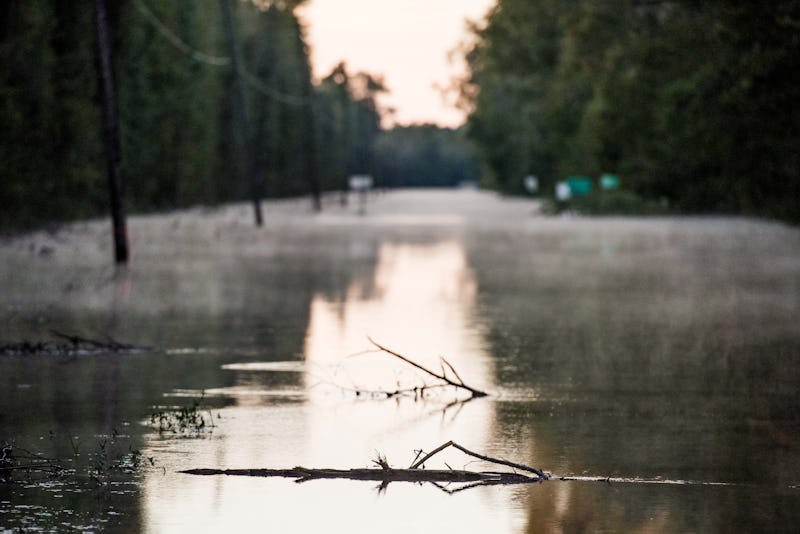 Sean Rayford/Getty Images News/Getty Images
A tropical storm that has developed in the Atlantic has become increasingly likely to make landfall on the East Coast as a hurricane next week, according to the National Hurricane Center. Tropical Storm Florence could hit the southeast U.S. as "a dangerous major hurricane" by late in the week, though The Washington Post reported that there is still a small chance it could miss the coast.
The Weather Channel's Rick Knabb warned on Twitter that the "next 5 days pose extreme danger to the southeast coast" and that "we must prepare." According to NPR, Florence is traveling over warm water, and is expected to increase in speed and become a hurricane Saturday night. Although Florence is projected to make landfall somewhere along the southeast coast, the NHC tweeted that nothing is set in stone.
"Given the uncertainty in track and intensity forecasts at those time ranges," the NHC tweeted, "it's too soon to determine the exact timing, location, and magnitude of those impacts."
In anticipation of the storm's arrival, Virginia Gov. Ralph Northam issued a state of emergency on Saturday, stating that Florence could cause "possible flooding, high winds and potential storm surge." Multiple state agencies across Virginia — including the Virginia Department of Emergency Management and the Virginia National Guard — have reportedly started preparing for Florence's possible impact, per CBS 6.
North Carolina and also declared a state of emergency, NPR reported, and other East Coast states are doing what they can to prepare for the storm if it does indeed make landfall.
"This allows our farmers to gather their crops, and get these crops out ahead of the storm," North Carolina Sergeant Chris Knox told NPR. "It allows utilities to come in. A lot of these things that we know we need to start doing ahead of time."
South Carolina Gov. Henry McMaster, meanwhile, has warned state residents to prepare their homes and properties as the storm makes its way toward the state.
"We do not know when it will change or if it will change, but we are preparing for the worst and, of course, hoping for the best," McMaster told reporters on Saturday. "But being prepared is always the best strategy."
The NHC projects that Florence will develop into a Category 4 storm with 145 miles-per-hour sustained winds over the next five days. According to Axios, this is the strongest five-day intensity forecast the NHC has issued in the past two decades for an Atlantic hurricane. Axios also reiterated, however, that there is enough time left for the forecast to change, and noted that intensity forecasts are more uncertain than track forecasts. For now, government officials and meteorologists have urged people along the East Coast to stock up on supplies and acquaint themselves with evacuation routes, should the need arise.
As of Saturday evening, NBC News reported that Tropical Storm Florence had maximum sustained winds of 70 miles per hour. The center of the storm was roughly 810 miles southeast of Bermuda, and the storm was moving west at five miles per hour. The National Oceanic and Atmospheric Administration warned that storm swells created by Florence could generate life-threatening surf and rip current conditions; according to the NHC, these swells are already affecting Bermuda.