This Women's March Is Said To Have Topped Them All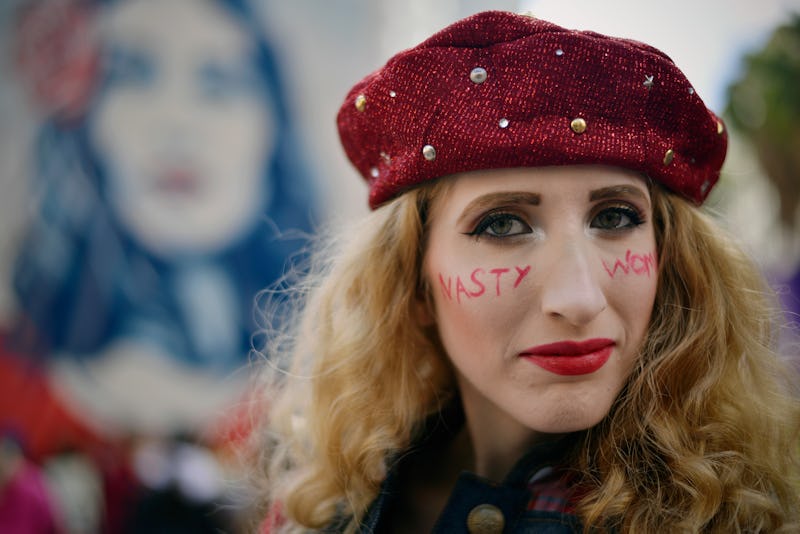 Chelsea Guglielmino/Getty Images News/Getty Images
Nowadays it seems all anyone can talk about is crowd size. But while President Donald Trump's administration continues to debate which president had the largest turnout, there's one event planned around the inauguration who's crowd easily had Trump's inauguration beat – the Women's March on Washington. More than 2 million people are believed to have gathered for Women's Marches in cities across the world Saturday to voice their support for women's rights and the rights of other marginalized groups they feel may be threatened by a Trump presidency. But where was the biggest Women's March held? While the main march in Washington attracted an estimated 500,000 people alone, it actually wasn't the biggest march held on Saturday.
According to crowd size estimates, the biggest Women's March occurred in Los Angeles, California, where organizers estimated a whopping 750,000 people turned out in solidarity for women's rights and human rights in general. Considering that the U.S. Census Bureau last reported population count for Los Angeles was roughly 3.971 million people, Saturday's Women's March LA very well could have drawn roughly one-fifth of the city's entire population to the streets. City officials told the Los Angeles Times the march appeared to be the largest demonstration seen in the city since 2006.
High-profile celebrity speakers such as Laverne Cox, Jamie Lee Curtis, Miley Cyrus, Jane Fonda, Natalie Portman, Barbra Streisand, and Kerry Washington took turns urging the crowd to stand united against any attempt by Trump's administration to roll back the rights of women or other marginalized groups.
"We don't want to talk about change, we want to be the change," Billboard reports Cyrus told the crowd. "And to know that I'm not alone in this dream brings me such hope, and hope is a crucial component in creating the world that we want to live in."
Aerial photos snapped of downtown Los Angeles during Saturday's march show streets from Pershing Square to City Hall flooded with people, many carrying signs or wearing knitted pink "pussy hats."
Although crowd size estimates are never 100 percent accurate, crowd scientists (yes, that's a thing) rely on a few different methods to determine the size of crowds, including analyzing aerial photographs to measure a crowd's density. So while it's virtually impossible to know exactly how many people turned up for Los Angeles' sister march to the Women's March on Washington, it is possible to obtain a roundabout estimate.
While more people may have turned up to the sister march in Los Angeles than to any other Women's March, it's important to remember that turnout isn't a competition (unless you're Trump, that is). Rather sister marches like the one that saw the streets of downtown Los Angeles overflowing with people helped send a bold message to the new White House administration.