29 Million Of These IKEA Dressers Are Being Recalled After 8 Children Died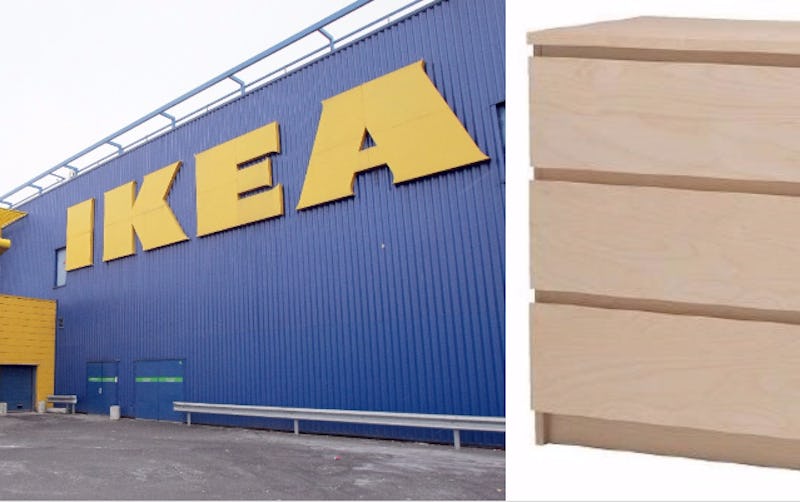 JACQUES DEMARTHON / Staff / Getty; IKEA
Nearly a year after furniture giant IKEA issued a major recall of its chests and dressers, another toddler was crushed to death by an unsecured IKEA dresser. Two-year-old Jozef Dudek died in May, after a Malm dresser in his parents' room fell on top of him. Lawyers for the family claim the Dudeks were unaware of IKEA's dresser recall, which they called "poorly publicized ... and ineffective."
In a statement to Bustle on October 20th, IKEA wrote: "Our hearts go out to the affected family, and we offer our sincere condolences during this most difficult time." They added that the recall "offered consumers a choice of several remedies which are still available today, and which we have communicated to consumers since the recall via our web site, through social media and email campaigns."
IKEA issued of voluntary recall of about 29 million dressers, including their popular line of MALM products, in June 2016, after the Consumer Product Safety Commission found that six children died and at least 36 were injured by falling chests in incidents dating back to 1989. The affected products were found to be prone to tipping if not properly anchored to the wall, and could easily fall over onto a curious toddler climbing on the drawers.
The recall offers full refunds or repair kits for over 100 potentially dangerous dresser models produced between 2002 and 2016 (see the full list here), and partial refunds for any dressers produced before 2002. The company will also send repair crews to customers' homes to help them anchor affected chests and dressers to the wall, at no cost.
"Enough is enough," CPSC chairman Elliot Kaye told ABC News after the recall. "These are inherently very dangerous and unstable products if children are around them."
In the six-months after the initial recall, approximately 882,500 dressers were returned to repaired, the Philadelphia Enquirer reported. This would represent only three percent of all recalled products. IKEA, however, pushed back against these numbers, saying that because the affected products have been sold for decades, "it's impossible to know how many of those units are still in use," and suggesting some owners may have secured the units on their own.
Dudek was reportedly the eighth child to be killed by an unanchored IKEA dresser. And while IKEA has been at the center of the growing discussion surrounding toddlers and unsecured furniture because of its ubiquity, its products are far from the only ones that pose a threat to children. According to the CPSC, "unstable and unsecured TVs and large pieces of furniture kill a child every two weeks, on average," and send approximately 38,000 people to emergency rooms every year, two-thirds of whom are children under the age of five.
In a new statement, IKEA told NPR: "IKEA urges all consumers to securely attach chests to the wall with the hardware included in every IKEA chest of drawers package. Wall attachment is a necessary part of the assembly instructions, which must not be overlooked. If it is impossible for units to be attached to the wall, consumers should choose a different storage solution."
Although securing dressers and chests to the wall is an important safety measure, some consumer advocate groups argue that it is only a stopgap solution, and that more should be done to build safer chests and dressers that are less prone to tipping.
"We can build TVs that won't tip over. We can build bookshelves that won't tip over. We can do a lot more than we're doing," Gary Smith, director of the injury research and policy center at Nationwide Children's Hospital in Columbus, Ohio told the Philadelphia Inquirer. "But we don't have the political will to do it. And there isn't the public outrage."
But there is certainly outrage among parents who have lost their children. Jaquelyn Collas, whose two-year-old son Collas was killed by a fallen MALM dresser in February 2014, is suing IKEA for failing to tell customers that their dressers are potentially dangerous for small children.
"I didn't know to anchor my furniture and, in my mind, I feel that we really shouldn't have to," Collas told ABC in 2016. "Get rid of it, it's dangerous, it's a really dangerous product."