Some Senators Are Silent On The Immigration Order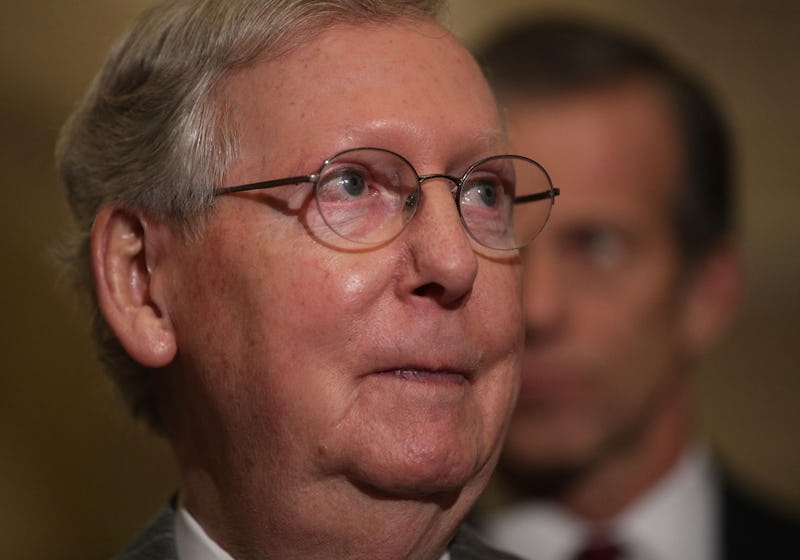 Alex Wong/Getty Images News/Getty Images
The country was understandably rocked by the executive immigration order Donald Trump signed last week, barring immigrants and refugees from seven countries from entering the U.S. And public reaction has been immense. Protestors are demonstrating at the nation's largest airports, #NoBanNoWall is taking over Twitter, and public figures like Chris Sacca, Sia, and Grimes are matching thousands of dollars of donations to non-profit social justice organizations like the ACLU and CAIR. But eyes are particularly on some of the most powerful actors in this situation, U.S. senators. And while many have spoken in favor or against the bans, some senators still have not commented on Trump's immigration order either way.
In the old days, you would have had to comb through piles of newspapers and press releases and make more than a few phone calls to find out how which senators had and hadn't commented on certain issues. But today, thanks to the Internet and Google Docs, learning which elected officials are remaining silent on the important issues is much easier. Right now, a document listing each senator's public position on Trump's immigration order is circulating on social media. And it shows that more than a few have seemingly nothing to say on Trump's recent actions.
As of the afternoon of Jan. 30, according to the spreadsheet, 31 senators have remained silent on the immigration order, while another six have acknowledged them without saying whether or not they support them. Fifty-eight have stated they are opposed to the bans, with the remaining five senators in support. And while opposition to the ban crosses party lines, support of it and silence doesn't. Every senator that supports the ban is a Republican, as are all but one of those who are silent. (On the flip side, the senators who showed up to anti-ban airport demonstrations were all Democrats.)
Their silences can be read as many things — from complicity in the ban, to fear of speaking out, to outright ignorance — all of which merit a phone call from constituents. Along with information on each senator and where they're from, the comprehensive document lists their contact information including phone numbers.
See where your senator stands. And if they haven't made that clear yet, call them up and ask. With so much at stake, silence on this issue harmful whether you're an elected official or an everyday person. If you're looking for a way to break silence from both, consider giving one of these quieter senators a call.