Franklin Graham Has Voiced Islamophobic Views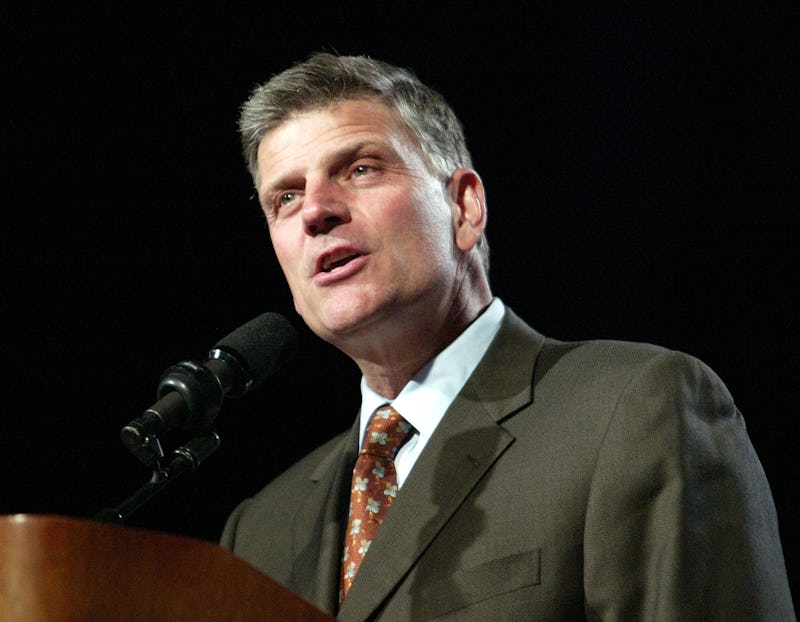 Roger Hornback/Getty Images News/Getty Images
On first look, Donald Trump's choices as Inauguration prayer leaders seem to represent all of America — that unity that Kellyanne Conway keeps pushing on cable news. There is a rabbi from Los Angeles, a black megachurch leader from Detroit, and a New Age abundance and prosperity preacher from Florida. Throw in a Catholic archbishop, a Hispanic Christian leader, and a born-again Christian, and you'd seemingly have the whole country covered. But not so fast. There's one big religious group missing, and the Christian evangelist Pastor Franklin Graham has values that are less than inclusive.
No Muslim prayer leaders were included, but that's not the worst of it: One of the six prayer leaders for Friday's inauguration has called Islam "evil." That's why the Center for American-Islamic Relations, the country's largest Muslim civil rights and advocacy group, has called on Trump to disinvite Graham, the son of Billy Graham and head of the Billy Graham Evangelistic Association. CAIR called Graham an extremist and "notorious Islamophobe." The group's executive director Nihad Awad explained why they'd like a change in a statement:
If President-elect Trump truly seeks to unite our nation as he promised in his acceptance speech, he will limit the list of those offering prayers at the inauguration to religious leaders who work to bring us together, not to create divisions between faiths.
Graham did say some very troubling things about the Islamic faith back in 2003. "The God of Islam is not the same God," he said at a church dedication that year. "He's not the son of God of the Christian or Judeo-Christian faith. It's a different God, and I believe it is a very evil and wicked religion."
NBC News reporters tried to follow up on his comments, and Graham, referencing Sept. 11, responded, "It wasn't Methodists flying into those buildings, it wasn't Lutherans. It was an attack on this country by people of the Islamic faith." He has repeated similar rhetoric as recently as 2014.
In late 2015, he called for Muslim immigration to the United States to be stopped in an inflammatory Facebook post full of questionable statistics. Add that to Trump's Islamophobic campaign, and you can see why CAIR is concerned.
The other prayer leaders include Bishop Wayne Jackson of Great Faith Ministries in Detroit; Trump's abundance spiritual adviser Paula White; and rightwing Israeli Rabbi Marvin Hier of the Simon Wiesenthal Center in Los Angeles. They will be joined by Rev. Samuel Rodriguez, senior pastor at New Season Christian Worship Center in Sacramento, and Cardinal Timothy Dolan, the archbishop of New York.
None of the rest make up for Trump's choice of Graham — the President-elect needs to consider his Islamophobic comments before Friday and reconsider his invitation.