Katy Perry's 2017 Met Gala Dress Was Custom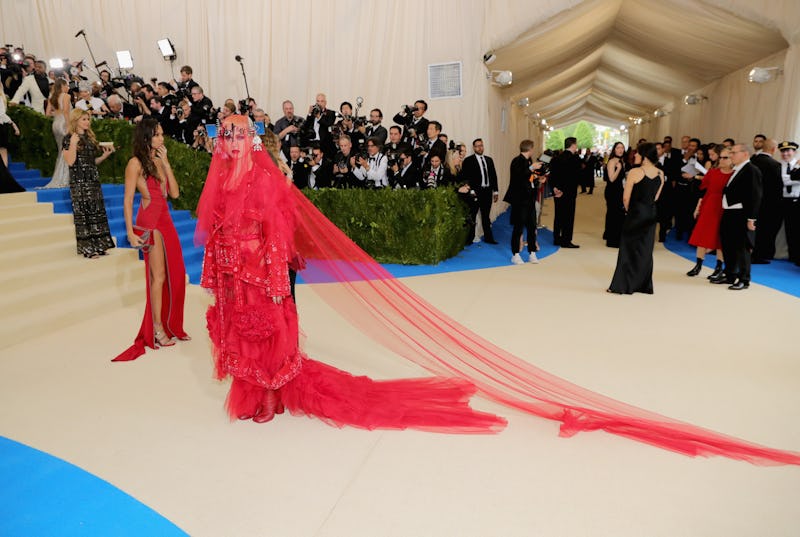 Neilson Barnard/Getty Images Entertainment/Getty Images
Drama, drama, and more drama! That really is the only way to describe Katy Perry's dress at the 2017 Met Gala. Perry served as co-chair of this year's event and she wore a custom, red-hot, avant-garde gown. It was an epic piece of couture, one befitting someone who was intricately involved in planning and executing the biggest fashion event of the year.
Perry's cocoon-like, scarlet ensemble, which was loyal to the Comme des Garçons x Rei Kawakubo theme, was show-stopping on so many levels. It featured an embellished veil that covered her face and obscured her newly-shorn, bright blonde, punk rock pixie cut. The word "witness" was spelled across the front of the veil.
To my eyes, Perry's deconstructed ensemble was major in every way. It was fashion as art and it was as impractical as it was breathtaking. Therefore, it was certainly appropriate for an event that celebrates fashion on the red carpet and beyond. As Vogue reports, the dress was comprised of wool, tulle, and chiffon. So, who designed Katy Perry's 2017 Met Gala dress?
Perry's Met Gala dress was a custom Maison Margiela Artisanal gown, designed by John Galliano.
The singer was able to pull this dress off with her serious posture and (mostly) smile-free posing. Granted, we couldn't really see all of her face because it was covered by the veil. But she exuded a cool poise, grace, and class that belied her usual goofy and fun personality.
Perry's lipstick and her mani matched her crimson ensemble.
Perry's gown also had a train because of course it did!
Perry's ensemble is on par with her bestie Rihanna in terms of being unforgettable and for its high-impact "BOOM! POW! BAM!" vibe.
OK, so Katy Perry did smile despite wearing a serious and fashion-y frock.