Here's Everything You Need To Know About Shailene Woodley's New Dude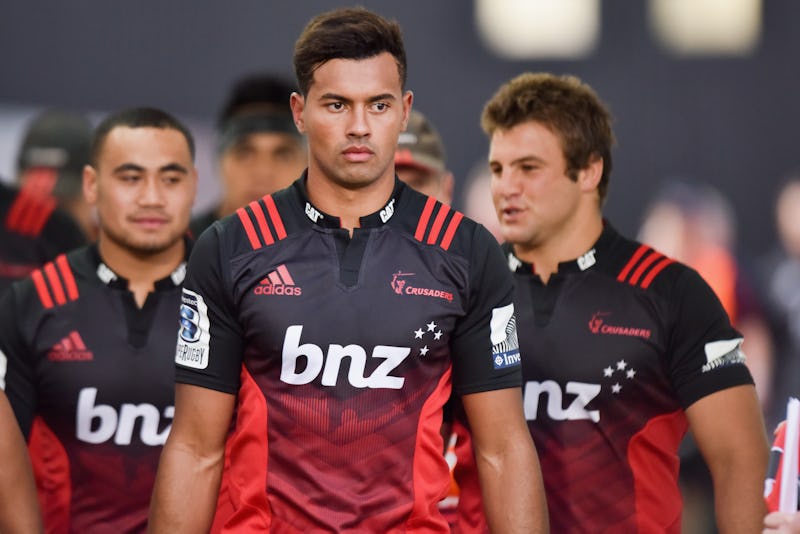 Kai Schwoerer/Getty Images Sport/Getty Images
It doesn't look like Shailene Woodley is keeping her latest romance a big little lie for much longer. Woodley was recently seen kissing Ben Volavola outside of a sporting event. Who is Ben Volavola? Woodley appears to be getting super close to the athlete as of late, especially as shown in some new photos.
Volavola is a rugby player. He has played for the Melbourne Rebels and was a pivot for the Fijian team but is now with the New Zealand team North Harbour. In fact, Woodley was spotted sporting a North Harbour beanie in support of the 26-year-old.
The rugby player doesn't have a public Instagram account, but he is active on Twitter. His bio on the social media site reads, "GOD•FAMILY•FOOTBALL #TeamJesus," and he frequently posts about everything rugby related. He's yet to post anything relating to his relationship with Woodley, though.
E! News reported that the two apparently met in Fiji because of Volavola's ties to the rugby world there and because Woodley has been busy filming a new movie, Adrift, which also stars Sam Clafin, in the tropical locale. During the time Woodley and Volavola spent in Fiji, they must have fallen for each other. Is there really anything more romantic than falling in love in a place as beautiful as Fiji?
Woodley has been a little coy about showing off her beau on her Instagram account. While she hasn't posted any photos of Volavola with his face showing or his name mentioned, she has posted photos reportedly of herself and Volavola together, just with their faces cropped out. The actor hasn't confirmed that it is indeed Volavola in the pics but since one of the photos looks to be in Fiji, it stands to reason that it may very well be him in the photos.
Fans flocked to the comments of Woodley's Instagram posts with some questioning if the two were in a relationship. But, most of Woodley's fans were convinced that it's Volavola and voiced how happy they were. One user said, "Sweet couple. Ben Volavola is very handsome ..." While another fan excitedly said, "I'm so happy for you. I wish all the happiness in the world for you and Ben ..."
Woodley captioned the above snap with a simple, "trust." as what appears to be the two of them posed amongst the scenery.
She captioned the below pic, posted on Oct. 6, with, "pillars. are. everything. #pleaseshowupforsomeonetoday". These two seem to be super supportive of each other. Woodley also posted another photo of a man's foot, which one can now guess is Volavola's.
Woodley's caption on the "pillars" post ties back to previous comments she's made on relationships. In an interview with Elle, Woodley said, "When you're truly in love, for me, it's... you're my lighthouse! You're somebody who holds me high, who keeps me safe." She continued, "You let me do me, and I'm gonna let you do you! And I'll be the home that you return to." It sounds like when Woodley is serious about someone, it's the real deal. She's going to be supporting her partner and looking for them to do the same.
The actor also let InStyle in on how she views her love life, and she had something pretty hilarious to say (via E! News), "I'm curious to see where my life ends up when it comes to partnership. I always think of life as a pie. My pie is f*cking fine. I've got the best pie! It's so delicious. If you want to add some ice cream and sh*t on top, you are welcome to the party, but you don't get to take a slice of my pie."
She knows what she wants and she knows what she's worth. No one is going to make her change who she truly is (or, you know, lose a slice of her pie), but they could add a little something to her pie life to make it even sweeter. Maybe Volavola can be the one to add that scoop of ice cream!