Whoa, This Taylor Swift Love Song Could Actually Be About Two Different Guys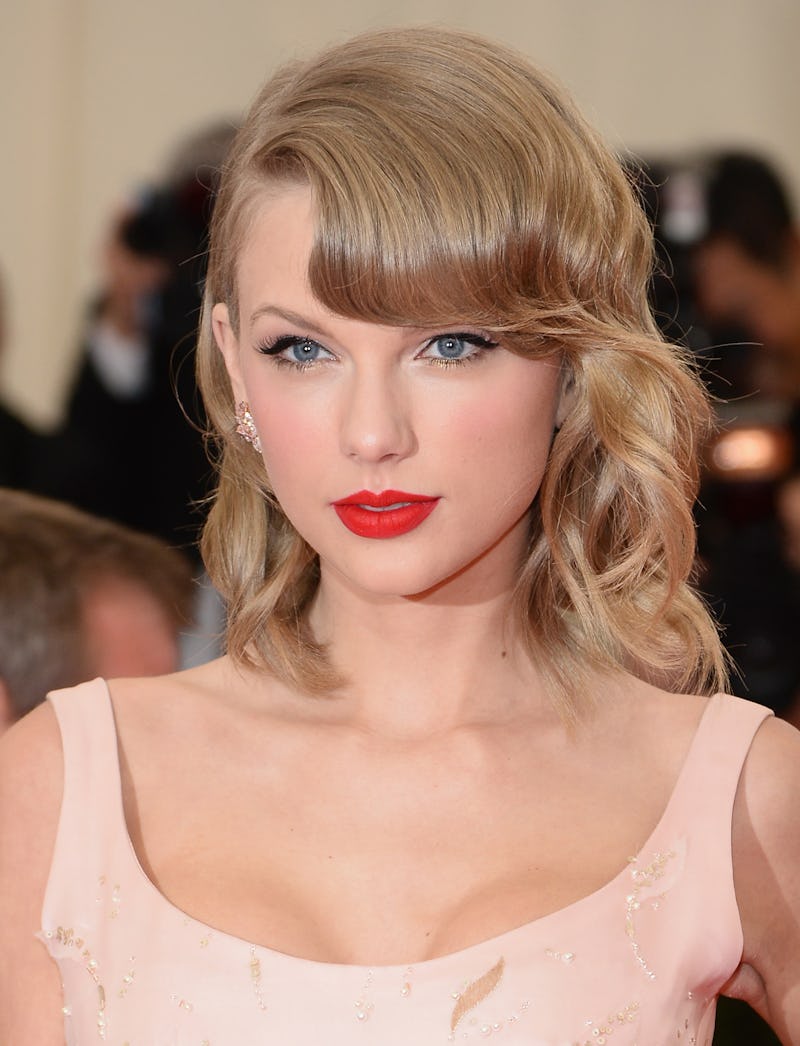 Dimitrios Kambouris/Getty Images Entertainment/Getty Images
With Taylor Swift's new album Reputation finally unleashed to the public, it was only a matter of time before fans hit the interwebs with their theories and predictions surrounding the 15 tracks and who might have inspired them. Though some tracks have seemingly obvious inspiration behind them — like "Gorgeous," which Swift has straight up said is about her current beau Joe Alwyn — others are a little harder to dissect. And one song on her album, "End Game," featuring Future and Swift's BFF Ed Sheeran, is one such song. So who is "End Game" about? Let's dive right in.
To start, the term "end game" in the classical definition refers to the final stage of a game, when few players or pieces remain. But in the case of this song, we can assume Swift is referring to the game of romance, love, and relationships. She sings:
I wanna be your end game
I wanna be your first string
I wanna be your A-Team
It seems that Swift is referring to wanting to be someone's ultimate or final love. And considering her current boyfriend is Alwyn, it stands to reason that the song is about him.
But the lyrics that follow make the muse's identity less clear. Swift continues to sing:
Big reputation, big reputation
Ooh, you and me, we got big reputations
Ah, and you heard about me
Ooh, I got some big enemies
Big reputation, big reputation
Ooh, you and me would be a big conversation
Ah, and I heard about you
Ooh, you like the bad ones, too
From these lyrics alone it seems clear that the song isn't about Alwyn. Yes, the 26-year-old is an actor who secured the title role in Billy Lynn's Long Halftime Walk, an Oscar-nominated role from 2016, but he was a fairly fresh face at the time, and he hasn't done a ton of acting since. Swift attributes this mystery man to having a "reputation," so whoever he is is likely someone who has been in the public eye for some time, and who has a more widely recognized name than Alwyn.
Because of this element, it seems like the song might actually be about ex-boyfriend Tom Hiddleston, who certainly fits the bill of having a reputation that precedes him. He also has a long list of acting credits, is older than Alwyn, and is likely a more recognizable name in general.
When examining this lyric: "Ooh, you and me would be a big conversation," it acts as further proof that the song is about Hiddleston. Because, let's face it: Swift and Hiddleston didn't date for terribly long, but their relationship ignited a major news storm.
From photos of them vacationing in Europe to pictures of Hiddleston wearing an "I heart T.S." T-shirt, the paparazzi — and fans — couldn't get enough of this power couple's short-lived relationship.
And if those lyrics aren't proof enough, there is a third piece of evidence that points to Hiddleston being the inspiration. Swift sings:
I don't wanna hurt you, I just wanna be
Drinking on a beach with you all over me
And as die-hard fans know, Swift and Hiddleston were photographed on the beach and in the ocean together — all over one another.
Though most evidence points towards the song being about the British actor, it's tough to say for certain. Swift and Alwyn have supposedly been dating for a year or so now, and that's much longer period than Swift and Hiddleston allegedly were together for. Comparing the lengths of both relationships, it seems the label "end game" is a more fitting one for Alwyn.
Fans may never know for certain, but let the theories and hot takes rage on.