One Of Trump's Associates Bragged He Could Get Him Elected With Russia's Help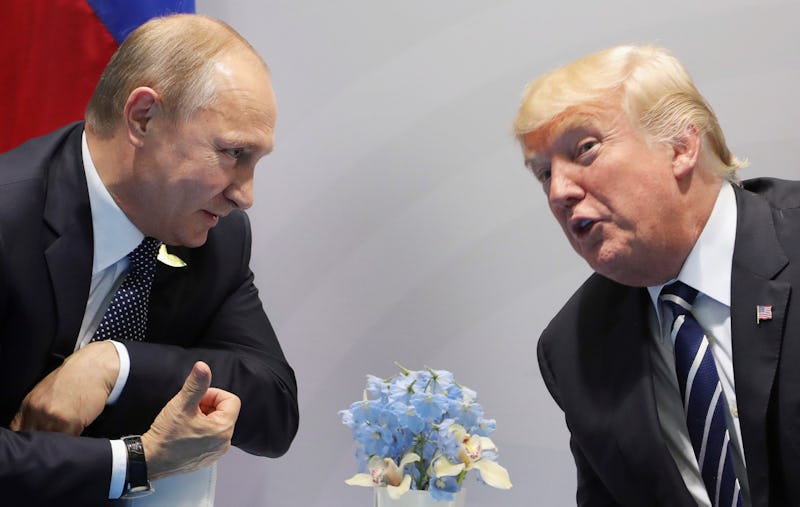 MIKHAIL KLIMENTIEV/AFP/Getty Images
It seems that every time the FBI unearths new evidence related to Trump's potential ties with Russia, the public is introduced to yet another player in the scandal. Following a recent report from The New York Times, you might be wondering exactly who Felix Sater is. The Trump associate wrote an email in November 2015 to Michael Cohen, Trump's lawyer, saying he could get Trump elected as president. And to put things into context, this happened over six months before Donald Trump Jr.'s meeting with a Russian lawyer.
In the email sent to Cohen, Sater alluded to his connections to Putin, and confidently said he could get Trump in office. "Our boy can become president of the USA and we can engineer it. I will get all of Putin's team to buy in on this, I will manage this process" Sater wrote in the email.
In the emails, it was revealed that Sater was pushing to build a Trump Tower in Moscow, a proposal that was eventually retired, after Trump declined to visit the city. Regardless of the cancellation of the tower, the emails provide further proof that the president's lawyer was in the process of negotiating possible business deals with Russia during the election's campaign season.
When it comes to Trump's personal relationship with Sater, the president has remained notably avoidant about the subject. In December 2015, just a month after the email was sent, the Associated Press asked Trump about his connections to Sater. "Felix Sater, boy, I have to even think about it. I'm not that familiar with him," Trump told the reporter.
Despite the president's claims of unfamiliarity, Sater worked as a real estate executive with Bayrock Group and functioned as a partner with Trump SoHo in 2005.
It should be noted that beyond his possible attempts to interfere with the election, Sater served a year in prison for assault after stabbing another man in the face with a martini glass. He also pleaded guilty to racketeering in conjunction with a $40 million stock fraud scheme orchestrated by the Mafia, and was only able to avoid jail time by becoming an informant for both the CIA and FBI.
However, it's important to note that the Trump Organization itself was the one that turned the emails over to the House Intelligence Committee on Monday. That same day, Cohen released a statement suggesting Sater was exaggerating in that 2015 email. "He has sometimes used colorful language and has been prone to 'salesmanship,'" Cohen wrote. "I ultimately determined that the proposal was not feasible and never agreed to make a trip to Russia." Furthermore, none of the emails obtained by the Times included any reference to Hillary Clinton. Regardless, no matter what else is unearthed, Trump's connection to Sater isn't flattering.