These Heckles Couldn't Bring Down Obama's Speech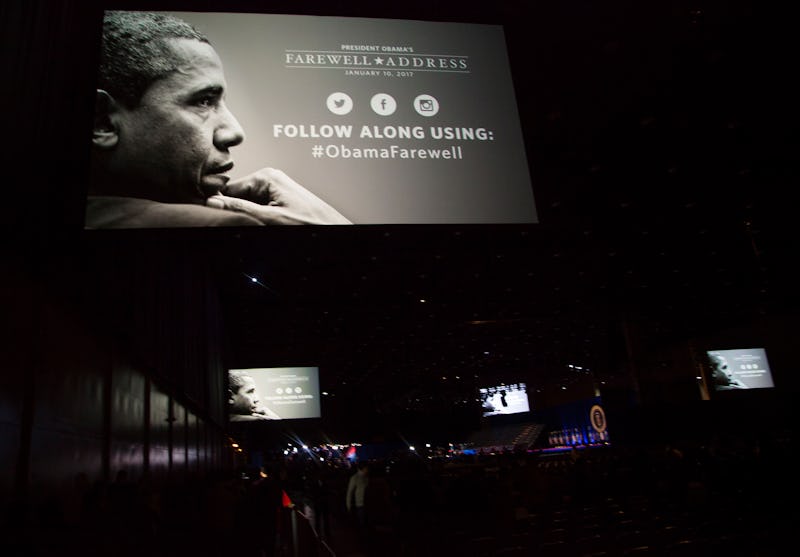 Darren Hauck/Getty Images News/Getty Images
During his final speech to the nation at the McCormick Place convention center in Chicago, President Obama was heckled by a stranger in the crowd. For several minutes, the disruptor intermittently yelled mostly incoherent sentences from somewhere within the arena (it's not clear if he was removed by event staff or independently decided to stop shouting). Yet despite the protester's shouts, Obama forged on with his emotional speech, proving that the last eight years have really taught him how to ignore the haters. Obama's farewell speech is a microcosm of his presidency, because even though he faced rude and untimely criticism, he kept moving forward with the grace and eloquence that has defined his tenure in office.
Obama is no stranger to derisive attacks, and his last speech honestly wouldn't have been representative of his presidency without a little heckling. For a variety of reasons, Obama has been one of the most critiqued presidents of all time — he's regularly faced heckling from both individual citizens and established news media organizations. So it makes total sense that someone would get in one last public bout of criticism before he leaves office.
But like the champ he is, Obama took it without even the blink of an eye. He continued on with the speech, hitting on some of his legislative and executive victories over the last eight years, as well as his hopes for the future of the country. He didn't let doubters and critics stray him from his goals during his presidency, and he didn't let one distract him during his final speech either.
Ironically enough, Obama also got heckled online while he was giving the speech. Twitter has been both a blessing and a curse during the Obama era, and while the majority of the tweets about the speech seem to have reflected its positive sentiment, it wouldn't be a true social media platform if some haters hadn't come out of the woodwork. But that's arguably the greatest thing about social media, and the United States itself — people have the freedom to say what they want. Even if people choose to endorse negative views and use divisive rhetoric, they're allowed, and you're allowed to call them out on it.
Obama defended a lot of civil liberties throughout his presidency, including the tacit defense of the freedom of speech by his very existence. He always let his critics have space to speak without deriding them, even if they were hating on him for the most prejudicial of reasons. It's one of the reasons he will always be remembered as a great president. Even if he was bound by an unfortunate cultural and political moment in history, Obama rose above the fray to provide a model for decorum that consistently showed the strength of his character.