One American Was Injured In The Istanbul Nightclub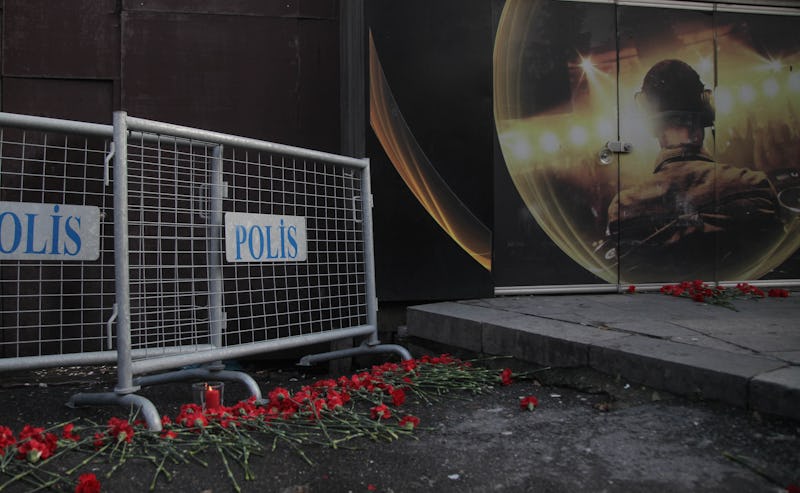 Getty Images/Getty Images News/Getty Images
Not long after the clock struck midnight early Sunday, club-goers in one of Istanbul's most exclusive venues were sprayed with bullets. ISIS has now claimed responsibility for the attack, which killed 39 people from a dozen countries and injured another 69. One of those injured in the attack spoke to NBC News Monday and explained how he survived. Who is Jake Raak? He is the American who was shot at Reina nightclub and made it out alive by playing dead — even when the gunman shot him point blank.
William Jacob Raak, 35 from Greenville, Delaware, was in Istanbul to celebrate his birthday and ring in the new year. He was at the club with a group of nine, seven of whom were shot. Raak explained to NBC that when he first was told there was a gunman in the club he didn't believe it:
I saw him coming and he shot us all. Somebody said there were shots fired and I initially did not believe it until I saw the gunman and he started shooting up the whole place.
By the time the gunman reached Raak, he was lying under a bench with his legs sticking out. The shooter stood on the bench and shot down at Raak and other people lying on the floor. "When he shot me I didn't move — I just let him shoot me," Raak told NBC. "I was shot when I was already on the ground. He was shooting people that he had already shot."
When Raak was shot, the bullet first hit his cellphone, destroying it but probably saving his life, doctors said, because it prevented a major artery from being hit. The bullet then entered the hip and traveled to his knee. The bullet has already been removed by surgeons in Istanbul.
Raak should be released sometime this week for transfer to the United States, Raak's brother, Michael, told NBC 10 of Philadelphia. "Everyone's just happy he's alive and getting home pretty quickly," Michael told the TV station. Raak is the owner of TECH Manufacturing Corp., an aerospace manufacturer in Sharon Hill, Pennsylvania. He's a graduate of Penn State and originally from Chadds Ford, Pennsylvania.
Thus far Raak is the only American named by the State Department as having been injured in the attack. Americans were warned again Sunday by the U.S. Consulate General in Istanbul to keep movement in the city to a minimum. A statement was released reiterating that terrorists "are continuing aggressive efforts to conduct attacks in areas where U.S. citizens and expatriates reside or frequent." In October, families of staff at the Istanbul Consulate were ordered to leave due to threats from terrorist organizations.
The gunman of Sunday's attack is still at large, but Turkey has made eight arrests in connection to the shooting. The Turkish military also retaliated by hitting ISIS in Syria. They announced 22 fighters were killed. The frontline, though, sometimes seems much closer. Istanbul has seen a large number of terrorist attacks in 2016.
Raak said Monday, "I was probably the luckiest person in the whole thing." He may be right. Sadly for the Turks, this sort of violence is growing all too common.