Why 'RHONJ' Newbie Margaret Nicknamed Her Husband "Super Joe"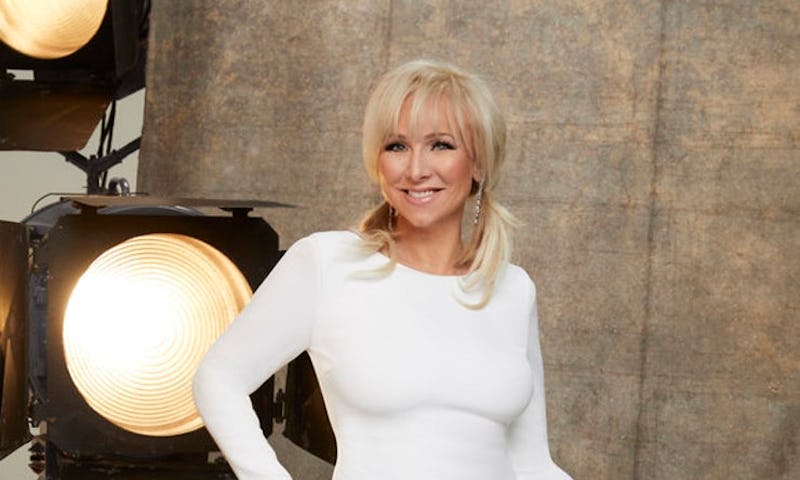 Rodolfo Martinez/Bravo
With a new woman added to the mix on The Real Housewives of New Jersey for Season 8, often comes a new significant other for the viewers to "meet" as well. The newest RHONJ cast member Margaret Josephs is married to Joe Benigno, which means he'll probably be getting in on some of the action. Here's what we already know about Benigno, prior to his Bravo debut.
First of all, his Instagram handle is @therealsuperjoe, making it clear that he is no "average Joe." So now there's a "Juicy Joe" and a "Super Joe" on RHONJ. Melissa Gorga needs to grant Joe Gorga with a nickname so he doesn't feel left out.
So what makes Joe so "super"? According to the biography section on Margaret's official website, Joe is "the ultimate motorcycle riding, plumber and contractor to the stars (but mostly Margaret)." Well, isn't that adorable? Her bio also says that "true to their joie de vivre attitude [Margaret and Joe] eloped to Las Vegas in 2013." The viewers will (hopefully) find out more about Joe as Season 8 progresses, but hopefully the Vegas elopement is an indication that the couple is going to be a fun addition to the show.
Some Real Housewives husbands prefer to take a backseat away from the action and others are even more into being on the show than their wives seem to be. It's unclear how involved Super Joe will be in Season 8, but Margaret confirmed that her husband will definitely appear on RHONJ in an interview with NorthJersey.com. Margaret said, "I've always watched the show and I think it's really about family. And people relate to that all around the world. With my family, my husband is on the show, my ex-husband is on." The ex husband and the husband? Now, that's juicy. Not to be confused with Juicy Joe. Again, there are just so many man named Joe on this TV show. It's confusing.
Joe is Margaret's second husband. According to People, she was previously married to Jan Josephs, who had three children from a previous marriage. Margaret and Jan had one son together before their relationship ended.
Margaret has not commented too much about her husband's presence on the series, but she did share with People that Joe is a fan of her signature look: pigtails. When asked if even gets sick of being asked about them, she said, "No it works on me. Even my husband loves it — he's like wear the pigtails today. I don't know it just works on my face. I'm just so used to it." Hopefully that's a metaphor for how supportive Joe is in a more general sense, since his wife will (most likely) have to endure some drama as Real Housewife. She will definitely benefit from having a ride or die in her corner.
Aside from being there for his wife and working as plumber and contractor, Joe is a motorcycle enthusiast and he has posted a lot about his love for Harleys on Instagram.
Joe isn't the only one into the bikes though. His wife embraces the lifestyle as well. Margaret even refers to herself as a "motorcycle wife," which she defined in an Instagram caption as "one who rides a biker instead of horse, and understands wind in your hair is the best therapy."
Motorcycles aren't the only interest that Joe and Margaret share. They seem like a generally adventurous couple, since Joe also shared this photo off-roading with his wife.
Joe has even pushed Margaret to go camping with him by referring to it as "glamping" and getting her some pink outfits to rock. Clearly he's an outdoors kind of person, and Margaret seems to enjoy going on adventures with him.
As of right now, there isn't a lot of public information about Margaret's husband Joe, but he seems like an active guy who enjoys sharing interests with her. As far as his impact on Real Housewives of New Jersey goes, the fans will just have to watch and see what happens when Margaret and her family meet the rest of the ladies.