This 'Stranger Things' Villain Has Nothing To Do With The Upside Down, But You're Gonna HATE Him Anyway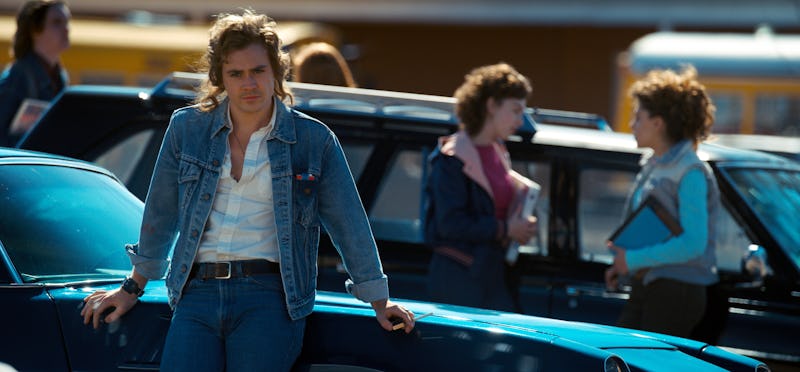 Netflix
Fans of Stranger Things are getting an extra treat this year for Halloween, because Oct. 27 Stranger Things 2 will be debuting for unlimited streaming on Netflix. The much-anticipated second season will be bringing on a host of new characters to join returning favorites like Mike, Nancy, and Joyce. Per TV Guide, two new siblings will be moving to Hawkins will be moving to Hawkins this time around. So, who is Max's brother Billy on Stranger Things? He may bring a lot of trouble along with him.
Played by Australian actor Dacre Montgomery, Billy seems like he will make some waves when he steps onto the scene this season on Stranger Things. According to Vulture, Billy is a new bad boy prototype in Hawkins after moving from California. Along with a bad attitude, he brings his younger sister Max (Sadie Sink), who is a feisty redhead that may end up joining forces with the Dungeons & Dragons crew. According to the same article, Billy's persona is really aggressive, and he likes heavy drinking and speeding in his Camaro (of course). Billy will be more in Nancy, Jonathan, and Steve's age bracket, which means that any issues he ends up causing could affect their already fragile dynamic in a big way. With Nancy likely already grieving the loss of her best friend Barb to the Demogorgon in the first season, this will probably not be a welcome stressor.
In an interview with Kevin Smith for IMDB at 2017's San Diego Comic-Con, Montgomery revealed that he was told by the Duffer brothers to watch a lot of Jack Nicholson movies to prepare for the role of Billy, particularly, The Shining. Montgomery went on to say, "My character in many ways is kind of that unpredictable sort of nature that Jack Nicholson sort of has." When Smith asked whether there would be a lot of influence from The Shining in his character, Montgomery nodded in confirmation. As a refresher, Nicholson's character in The Shining slowly loses his mind and eventually tries to kill his entire family. So, the character of Billy is shaping up to be quite a trip.
Montgomery didn't get cast in Stranger Things 2 the old fashioned way. In an interview with The Hollywood Reporter, Montgomery revealed that he was actually a huge fan of the series before being cast or auditioning for a spot on it. He really wanted to nail the audition when his manager informed him there was a role for an 18-year-old bad boy in the second season and he explained the lengths that he went to secure the job. "I was so nervous [about] it and wanted it so badly I made like a short film," the actor said. "I had an opening score, opening titles, and credits." He even took the whole thing up about 500 notches by stripping because, obviously. He revealed, "I got in a G-string and danced naked to '80s music with this leather jacket and crazy glasses."
Apparently it worked like a charm because he sent in his tape on a Thursday night, got a call for a Skype meeting with the Duffer brothers on Friday, and had the job by the following Monday. The lesson here is that '80s music and enthusiasm are the real keys to achieving one's dreams.
Although still a newcomer, Montgomery may be familiar to fans of a certain group of teens who periodically morph into superheroes. He recently starred in the new Power Ranger reboot. Per The Hollywood Reporter article, the lead role of Red Ranger Jason was actually the 22-year-old's first film role.
Billy seems like a wild card, and that's stressful, because the poor residents of Hawkins have enough to worry about. Though, who knows, the giant monsters from the Upside Down do have a way of bringing people together.