Who Is Sally Yates? Donald Trump Fired Her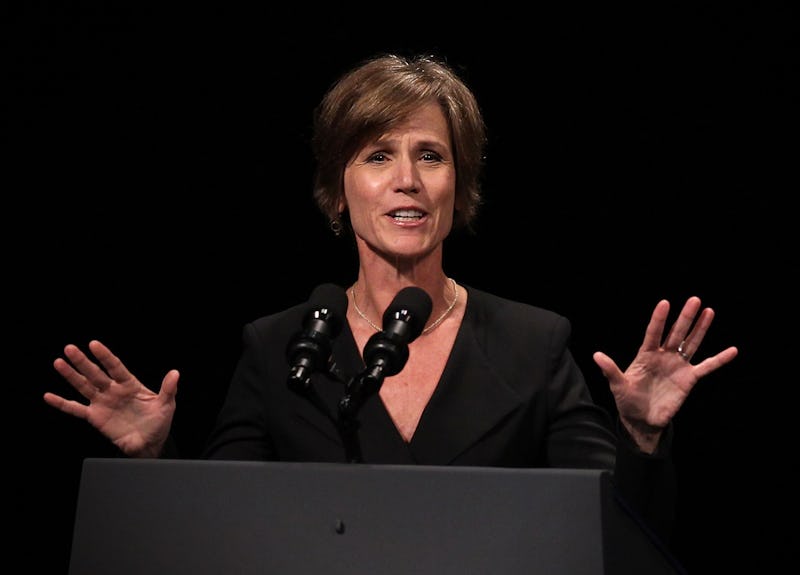 Alex Wong/Getty Images News/Getty Images
On Monday, the Acting Attorney General announced that the Justice Department wouldn't be defending Trump's Muslim ban in court. Hours later, Trump fired her. It's extremely unusual for an Attorney General, even an acting one, to actively defy the president, so today's events naturally have many wondering: Who is Sally Yates?
A Georgia native and graduate of University of Georgia law school, Yates has worked at the Justice Department for over 20 years. She became an Assistant U.S. Attorney in the U.S. Attorney's Office in the Northern District of Georgia in 1989, where she was the lead prosecutor in the trial of Olympic bomber Eric Rudolph. In 2010, President Obama appointed her as the first female U.S. Attorney to lead the office.
In 2015, Yates was confirmed to serve as Deputy Attorney General under Loretta Lynch, who Obama appointed to head the department in 2014. Yates became Acting Attorney General at Trump's request after Lynch left her position on inauguration day. She focused on many issues during her time at the department, including criminal justice reform, prison reform, white collar crime and cybersecurity.
Despite being an Obama appointee, Yates has commanded surprising support from Republicans during her career. Both of Georgia's Republican Senators voted to confirm her as deputy Attorney General — as did 35 other Senate Republicans, something of a remarkable achievement given the GOP widespread opposition to Obama and his appointees.
"She has been an equal opportunity prosecutor," Republican Sen. Johnny Isakson of Georgia said of Yates before her hearing. "She has prosecuted Democrats, Republicans, independents, Olympic park bombers and anybody who violated the public trust...Sally Quillian Yates is a great Georgian."
Ironically, or perhaps not, one Republican who didn't support Yates' confirmation was Sen. Jeff Sessions, Trump's appointment to replace her as the head of the Justice Department. Though she was ultimately confirmed, Sessions attempted to rally enough "no" votes from his colleagues to defeat Yates' appointment, citing her support for the Obama administration's moves in 2012 and 2014 to defer the deportations of certain undocumented immigrants who came to the country as children and hadn't committed violent crimes.
A similar situation to the Trump's firing of Yates arose during Richard Nixon's presidency when Nixon ordered Attorney General Elliot Richardson to fire the special prosecutor in the Watergate investigation. Richardson refused, and resigned; Nixon himself resigned from the presidency less than a year later after Congress initiated impeachment hearings against him.