'Wisdom Of the Crowd' Is About So Much More Than Just One Murder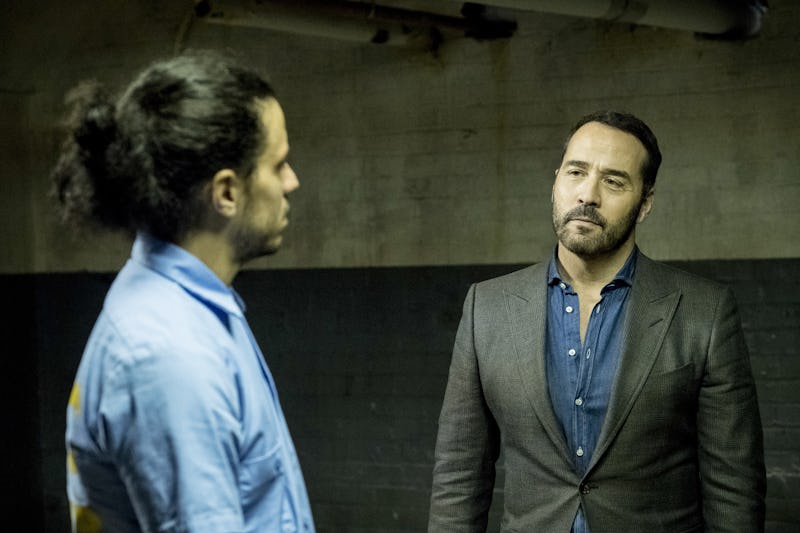 Cate Cameron/CBS
Wisdom of the Crowd is half procedural, half long-game whodunnit, tracing the emotional quest of a grieving father to find his daughter's murderer while solving the fringe crimes that emerge along the way. He starts a crowd-sourced crime-solving app to figure out who killed Mia on Wisdom of the Crowd, but as the platform broadens, so too does the show's scope. Tracking down the person responsible for Mia's death remains his core mission, but he quickly realizes that the internet has a mind of its own, and other cases will inevitably arise as he inches closer to getting justice. Spoilers ahead for Episode 1 of Wisdom of the Crowd.
The CBS drama stars Jeremy Piven (Entourage) as Mia's dad, a billionaire tech innovator named Jeffrey Tanner. One year after her death, he resigns from his Silicon Valley empire to launch Sophe, an online database for publicly shared information that he hopes can help him find Mia's killer. Well, her real killer. When the season opens, Carlos Ochoa (Ramses Jimenez), a former addict who worked at the shelter where Mia was interning, has been convicted for her murder. He had a key to Mia's apartment, and his semen was found inside of her, but according to Ochoa, they'd had a consensual sexual relationship. The police (and the court) didn't believe him; Tanner does. He says he saw the way Carlos treated his daughter, and when he refused to plead guilty, even when it could have meant a lesser sentence, he knew he didn't do it. He didn't speak up about his suspicions during the trial — he was too desperate for a resolution, even if it wasn't the right one — but now, he's trying to rectify his mistakes.
So, Tanner puts together a savvy programming team and recruits Detective Tommy Cavanaugh (Richard T. Jones of Narcos and Santa Clarita Diet), a cop who originally investigated Mia's murder but was unceremoniously forced off the case when he also began questioning that Carlos was the true murderer. One episode in, the prime suspect is a mysterious man who's caught on video by a Sophe user leaving Mia's building. He's too tall to be Carlos, but they have no leads on who he could be aside from that Mia's friend, whom she called just before her death, says Mia had a secret boyfriend, and that's who she thinks did it. Authorities, however, were dead set on Carlos and ignored this claim.
But Tanner and co. aren't able to make much progress before a new development turns their attention toward a different case. At first, Tanner is resistant. He started Sophe to solve Mia's murder first and foremost, then move on to other crimes, and he doesn't want to lose focus. As Piven told Deadline in August:
"Here's a heartbroken guy who is trying to fill this void, it's a fertile premise. He doesn't want to solve crimes on a bigger level, just his daughter's crime, and how that conflicts with this guy on several layers. He's a human being who is emotionally available and will utterly do the wrong thing for the right reasons."
It doesn't take much coaxing, though, for Tanner to give in. Other people need help too, and he of all people should understand why getting answers is so important. Soon enough, the Sophe team narrow in on two suspects in connection with another young woman's murder, and with a few assists from the internet, authorities are able to apprehend them both.
In the premiere's final moments, another Sophe alert pops up to signal new evidence. Whether it's tied to Mia's death or another case remains to be seen, but one thing's for sure: In the world of television, Sophe is an effective tool, and whatever's next is only one in a long line of crimes Wisdom of the Crowd will attempt to solve. As for what really happened to Mia? Fans will just have to keep tuning in to find more clues and attempt to put them together alongside the show's cast.