George W. Bush's Inauguration Had Big Performers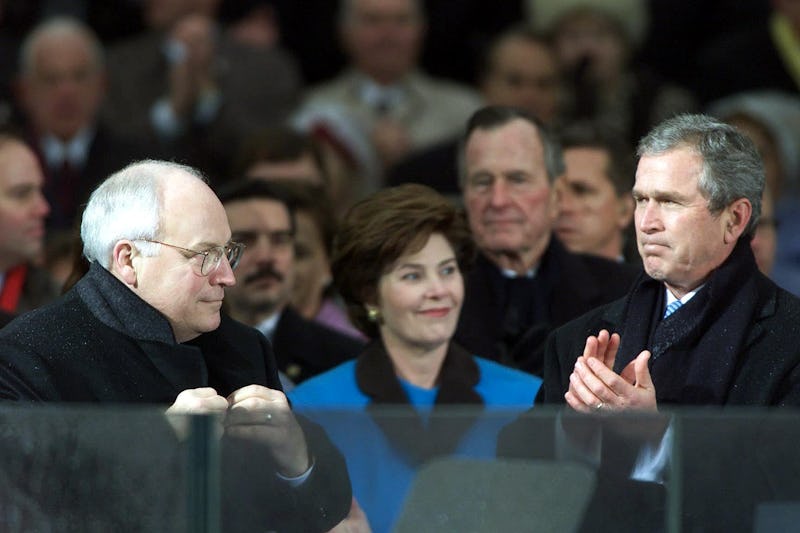 PAUL J. RICHARDS/AFP/Getty Images
The karmic struggles of Donald Trump's inauguration line-up have been an entertaining relief for the millions of Americans otherwise dreading his swearing-in ceremony. Dozens of stories about performers protesting the event have come out over the last few weeks. In contrast to the most recent Republican president's inauguration, it's evident that this type of boycotting isn't necessarily normal. In fact, George W. Bush's inauguration performers were some of the biggest celebrities of their time, indicating that Trump's lack of star power isn't a matter of partisanship.
In 2001, Bush's contentious victory over Al Gore still didn't cause the same amount of trouble attracting talent as Trump's controversial political rise to the top has. The 43rd president was able to book some of the absolute biggest pop stars of the day, including Destiny's Child, Ricky Martin, Jessica Simpson, and 98 Degrees. To better suit his own tastes, Bush also got some of the most famous country singers of the era to perform, such as Lyle Lovett, Asleep at the Wheel, and ZZ Top. Full of hope for his presidency, even those with leftist leanings lent their voices to Bush's inaugural festivities to support the new Commander-in-Chief. The same can't be said quite yet for Trump.
The 2005 festivities were slightly less star-studded after Bush's controversial first term, but he still managed to attract celebrities like Hillary Duff, JoJo, American Idol winner Ruben Studdard, and actress Angie Harmon for the various events put on by the Presidential Inauguration Committee. He also got opera singers Susan Graham and Denyce Graves to perform during the actual ceremony, topping off a solid day of performances. Once again, patriotism, in this case, proved stronger than any potential political or ideological objections.
It's undeniable that political partisanship increased during President Obama's time in the Oval Office, but clearly Bush didn't garner the vitriol from Hollywood that Trump has. That's really saying something, since Bush also had low approval ratings and faced his fair share of criticism from celebrities too.
Though Bush was unpopular at many points throughout his presidency, the negativity he faced is nothing compared to the public sentiment against Trump. He has yet to spend a single day in office and his approval ratings are already low. Millions of Americans never thought they'd see the day when they'd rather have Bush back as president, but if that was the only way to get around the 25th Amendment, some would probably take it at this point.