Meet Margaret Josephs, 'RHONJ's Pigtailed Entrepreneur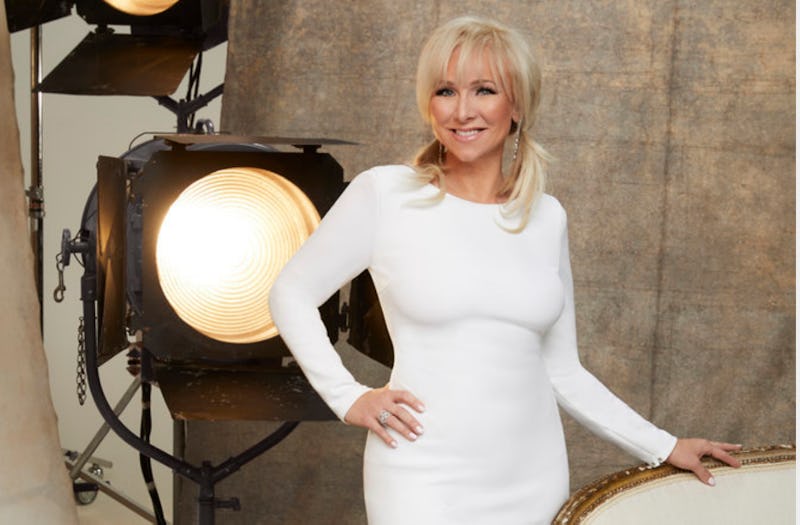 Rodolfo Martinez/Bravo
The Real Housewives of New Jersey Season 8 will welcome a new face to the fold, and who Margaret Josephs is could shake up the dynamics of the show. She joins returning cast mates Teresa Giudice, Melissa Gorga, Dolores Catania, Siggy Flicker, and Danielle Staub for another bout of Garden State dramatics, but it doesn't look like it takes long for Josephs to spark tension. "I want to take her and pull those pigtails until they come out of her head!" Flicker yells in the trailer. So, before you watch Josephs ruffle feathers on-screen, let's back up: What's her story?
According to her Bravo bio, Josephs, 50, is a New Jersey native. She was born in Elizabeth, New Jersey, but, per her company website, raised in Westchester, New York. She graduated from the Fashion Institute of Technology with a degree in fashion design and went on to work as a dress designer in the heart of New York's Garment District. At age 24, her bio reads, she moved to Tenafly, New Jersey to raise her three stepchildren with her first husband, Jan Josephs. Shortly after tying the knot, the couple welcomed a child of their own — a son — though they later divorced. She then met "the love of her life," a plumber and contractor nicknamed "Super Joe," and they eloped in 2013.
Professionally, Josephs is a thriving entrepreneur. According to CNN, after three years as a full-time mom, she was looking to declutter her life, so she started a decorative storage products business in 1999. It took off: By 2002, she was collecting $1 million in sales. It's since grown from a line of home accessories to a global lifestyle brand dubbed Macbeth Collection by Margaret Josephs, and now covers ready-to-wear fashion, accessories, beauty, tech, and more. Per the Macbeth website, Josephs' designs are known for being colorful, whimsical, and full of prints. As of 2012, CNN reported that the company was bringing in $26 million annually and had products in major retail stores including Barnes & Noble and Bed, Bath, & Beyond. Josephs also regularly appears on TV to share tips on organizing, accessorizing, and glamorizing. She boils her success down to determination, telling Country Living magazine in 2007:
"The minute someone says to me, 'You can't do that,' [I'm determined] to find 27 ways that I can! For me, business is all about passion. If you feel strongly about something, you should run with it. One of the hottest items in my line is a clipboard that I was told would never sell. That made me crazy! I've sold 25,000 of them this year."
On a more personal note, viewers may notice that Josephs wears her hair almost exclusively in pigtails, earning her the self-proclaimed moniker "Powerhouse in Pigtails." The reasoning behind it? True to housewife form: attention. "Everybody asked about the pigtails," Josephs told People in September. "I mean listen, it makes a statement. I'm not at the age of kindergarten when normally people start [wearing] their pigtails but you know they got used to it, everybody learns to love the pigtails. It just goes with my personality." But it's also a strategic move. She continued:
"I realized they were very disarming. People would mention them when I would wear them and you know people underestimate a girl in a pigtails and it's much more important in business to be underestimated because then you [can] easily take over. So I liked it. They're charming; they're underestimated and who doesn't love a girl in pigtails? Well maybe they don't but usually they do."
From the sounds of it, Josephs is an accomplished businesswoman with a strong personality to match, and when RHONJ returns Oct. 4, she'll undoubtedly stir up some trouble.