Why An 'AHS: Cult' Scene Was Edited Out Of Respect For The Victims Of The Las Vegas Mass Shooting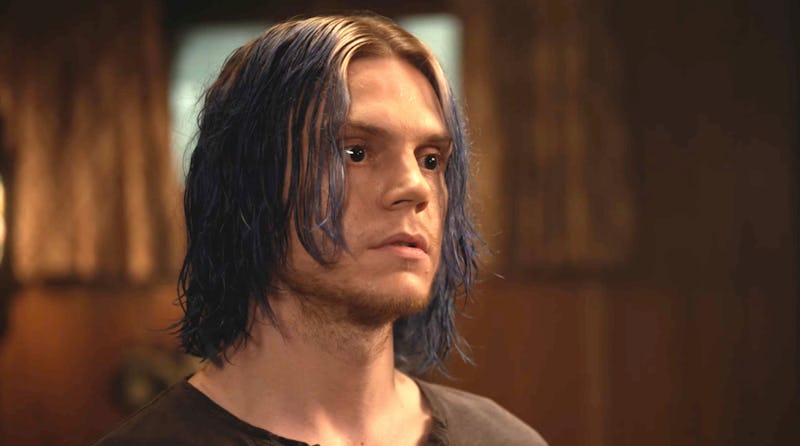 FX
American Horror Story doesn't pull any punches when it comes to disturbing and graphic violence, as seen in the most recent episode of Cult, "Holes." However, during a live discussion event at The New Yorker Festival on Oct. 7, the creator of the anthology series said it isn't ever his intention to offend viewers — which is why Murphy said he chose to re-edit an upcoming episode of AHS: Cult after the Las Vegas mass shooting on Oct. 1, out of respect for the victims.
UPDATE: On Oct. 9, FX issued the following statement:
"In light of the tragedy last week in Las Vegas, Ryan Murphy and the producers of American Horror Story: Cult have chosen to make substantial edits to the opening scene of tomorrow night's episode (Tuesday, October 10, 10 PM ET/PT). This opening, which was filmed two months ago and which portrays an occurrence of gun violence that has sadly become all too common in our country, contains a sequence that some viewers might find traumatic. Only the edited version of the episode will air on the FX linear channel, while the unedited version of the episode will be available on the VOD platform of your cable, satellite or telco provider, as well as on the FX Networks non-linear platforms, FXNOW and FX+."
EARLIER: Serving as the moderator, The New Yorker's television critic Emily Nussbaum asked Murphy how he feels when people are offended by elements of his shows. "I never do anything wanting to offend. I just have something to say," Murphy said. "Although on the flip side, I do understand public taste." He then explained how the upcoming sixth episode of AHS: Cult, "Mid-Western Assassin," (spoilers) opens with a shooting, which he said is a plot point. Murphy didn't personally write the episode and his team filmed it months before the Vegas shooting, but he decided to revisit the completed episode of after the tragedy took place.
"Of course [the shooting scene] was graphic and the whole point of the piece was to be an obvious anti-gun warning about society," Murphy said. "Then there's a mass shooting and you have a conversation, which is, 'Should you air it? Should you not air it? How do you be sensitive?'"
"My point of view on that was I believe I have the right to air it, but I also believe in victims' rights. And I believe that probably now is not the week to have something explosive or incendiary in the culture because somebody who was affected might watch that and it could trigger something or make them feel upset," Murphy said at the panel. "So our decision was to re-edit it and I felt that that was the right decision."
He confirmed that he made the scene less graphic and in the re-edited version of the episode, most of the violence will take place offscreen. "Nobody ever talks about victims' rights," Murphy said. "That's sort of a weird emotional discussion that's never bridged, but I felt great sympathy for people — not just people who were affected, certainly, and family members and loved ones, but people who feel upset about the way the world is. And so I just made the decision, 'You know what? I'm going to have all that violence be shown, for the most part, off camera.' And I went in and re-edited it. I felt a responsibility."
American Horror Story isn't the only TV show to change course after the recent mass shooting. On Oct. 4, Netflix and Marvel decided to pull The Punisher panel from New York Comic Con, which ran from Oct. 5 to Oct. 8. According to Entertainment Weekly, the companies released the following statement, "After careful consideration, Netflix and Marvel have decided it wouldn't be appropriate for Marvel's The Punisher to participate in New York Comic Con. Our thoughts continue to be with the victims and those affected by this tragedy." As seen in the first Punisher trailer, there is a significant amount of gun violence in the upcoming Netflix show.
Although it rarely seems there is anything that American Horror Story won't show, the choice to edit the scene is evidence that, while Murphy's work is oftentimes provocative, the show is not intended to cause viewers pain. And with Cult already scarily mirroring the current state of affairs with its focus on the 2016 presidential election, the edited shooting scene proves that AHS Season 7 is a dynamic piece of work that's literally changing with the times.