Aquaria & The Vixen's Feud Could Majorly Affect Their 'Drag Race' Chances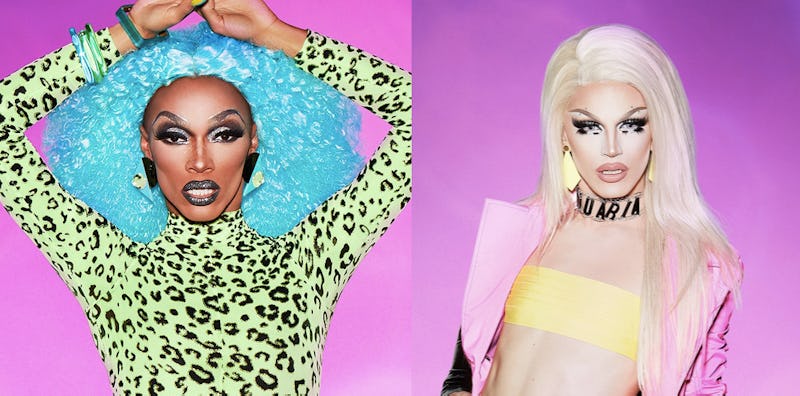 VH1
Drag and drama go together like peanut butter and jelly. So, it shouldn't be a surprise to anyone that there's already some major arguments in RuPaul's Drag Race Season 10. Some tea being spilled is completely normal during the show. However, it seems that drama between RuPaul's Drag Race stars The Vixen and Aquaria could affect the competition going forward.
The beef between The Vixen and Aquaria boiled over during Episode 3. While The Vixen was riding high from her mini and maxi-challenge wins in Week 2, Aquaria took a moment to try to knock her down a peg. While in makeup for Week 3's challenge, she brought up that The Vixen's "Best Drag" wig that helped to win her the challenge in Week 2 was borrowed from another queen. The pair exchanged some words and it ended with Aquaria getting upset and leaving the workroom.
Of course, this most recent spat between Aquaria and The Vixen isn't the first time the two have butted heads, their feud had been brewing since Week 1. During that first week, Aquaria had been shading Miz Cracker, claiming that Miz Cracker had stolen her makeup look. When another queen asked about it and Aquaria was wishy-washy about what happened, The Vixen sat up from the couch and said, "No! Too vague! So what happened was…" and proceeded to share the drama among the other girls. That frustrated Aquaria and the two haven't really been able to see eye-to-eye since. While this certainly isn't Ru's Best Friend Race, the drama between these two really could affect the competition.
It could affect the competition moving forward because, to this point, the fight seems to be wearing on Aquaria. At the end of each of the arguments with The Vixen, she's gotten up and left the area where they were talking. If Aquaria lets the drama between her and The Vixen continue to escalate it could distract her enough from the competition that she may not do her best.
The Vixen however seems to be thriving in the conflict. Giving her someone to prove herself against seems to be sharpening her skills, although that shouldn't be too big of a surprise. Her Season 10 intro, after all, was, "I'm just here to fight!" Also, just think of the drama if the two were ever made to work in a pair or as a part of a team...
While a lot of this competition is based on talk, it's actions that'll show who the winning queen of this feud will be. So far, if there's a queen who seemingly has the edge, it is The Vixen. Through three weeks of Drag Race The Vixen has won one maxi-challenge and one mini-challenge. In that same amount of time Aquaria hasn't yet won anything. Although there's plenty of time for her to turn it around and go on a winning streak, she hasn't shown that side of herself yet.
Looking to the queens' social media can often offer a bit of insight into their mindsets. After all, it's been a while since the show's filming and perhaps whatever beef they've had has been squashed. That actually seems to be the case. When The Vixen recently tweeted, "Ya'know you that b*tch when you cause all this conversation…" seemingly in response to the drama from Episode 1. Aquaria responded to that tweet, "VERY mood!" The Vixen, seemingly wanting the last word, then responded, "Big Mood lol" with a kissing-winking-smiley-emoji. Could this be them playfully teasing each other? Or is their drama still very much alive?
What is clear is that, while The Vixen may have the edge over Aquaria so far in the competition, it's important to note that it's still early. There's plenty of Drag Race that's yet to come — and plenty of potential feuds and drama ahead.