This Group Wants You High For Trump's Inauguration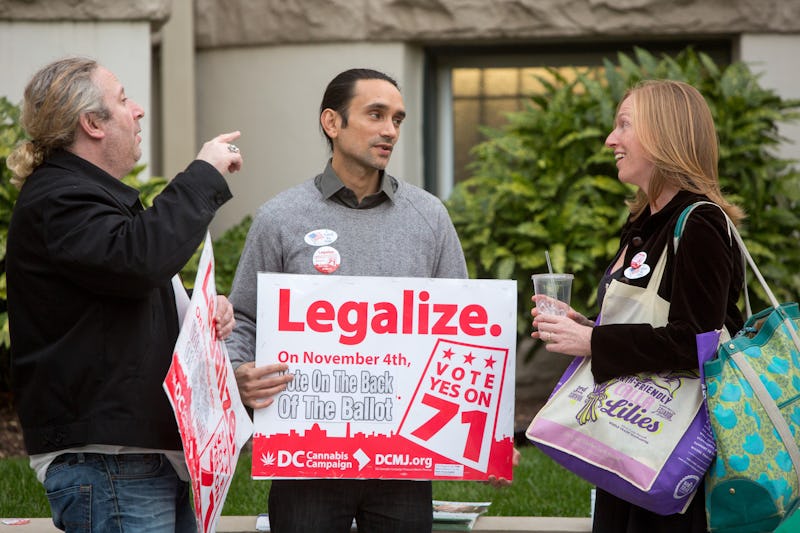 Allison Shelley/Getty Images News/Getty Images
The American flag won't be the only thing flying high at the inauguration of Donald Trump on Jan. 20. DCMJ, an advocacy group for cannabis use in the District of Columbia, plans to hand out 4,200 joints the morning of the inauguration, and is encouraging supporters to "light up" four minutes and 20 seconds into Trump's speech.
"We want a succinct position from the incoming president," DCMJ co-founder and communications director Nikolas Schiller told Bustle. "We have requested that both President-elect Trump and [Alabama Sen. and nominee for Attorney General Jeff] Sessions speak about cannabis, and since the election there have been zero words spoken from Trump's campaign or from Senator Sessions concerning cannabis reform."
As state-based legalization in places like Colorado and Washington has proven successful, and with California passing a bill legalizing recreational marijuana use in November, things had been looking up for cannabis activists. But Trump's selection of Sessions, whose opposition to marijuana is long-held and very well-known, has cast a shadow over some advocates' hopes that the United States was moving towards more large-scale legalization or even decriminalization.
"We're very concerned about the attorney general nominee," Schiller said, noting that as recently as last year, Sessions commented that "good people don't smoke marijuana."
"We think that great people do," said Schiller.
Washington, D.C. has had a strange road on its path to legalization, and "since D.C. is not a state, we're in a limbo," Schiller said. He explained that Washington D.C. passed a marijuana legalization ballot initiative in 2014 with over 70 percent of the vote. However, the effort was hamstrung by Congress, which imposed rules as part of a budget rider that forbade the city from reducing penalties or permitting the sale of marijuana.
"We're going to hand out coffee and tea and donuts and 4,200 joints."
This partly explains why the Inauguration Day demonstration is a marijuana giveaway. Adults are allowed to grow and own plants, and they are allowed to give away up to one ounce to other adults without remuneration, according to Schiller.
Schiller said the demonstration will start in a pocket of public, non-federal land just off of Dupont Circle. "We're going to hand out coffee and tea and donuts and 4,200 joints," Schiller said. "Some people might choose to light up there, some people might choose to take it home and light it up in their home, and some people might choose to put it in their pocket and walk down to the National Mall and light it up four minutes and 20 seconds into Trump's speech."
"It's totally up to the individual," Schiller added.
Among the tensions exacerbated by the conflict between the District and Congress is D.C.'s almost complete lack of representation on Capitol Hill — problematic, considering that Congress has jurisdiction over the District. "Washington, D.C. has more residents than the state of Vermont, but we have no Senators, and the only representation we have is a delegate who is not allowed to vote on any legislation in Congress, only in committee," Schiller said.
Still, DCMJ remains committed to continuing the fight for cannabis reform during the Trump administration, and the organization plans to sit in on Sessions' confirmation hearings next week.
According to Schiller, "This is unfinished business."