A Glittering Dance Party Is The Best Pence Protest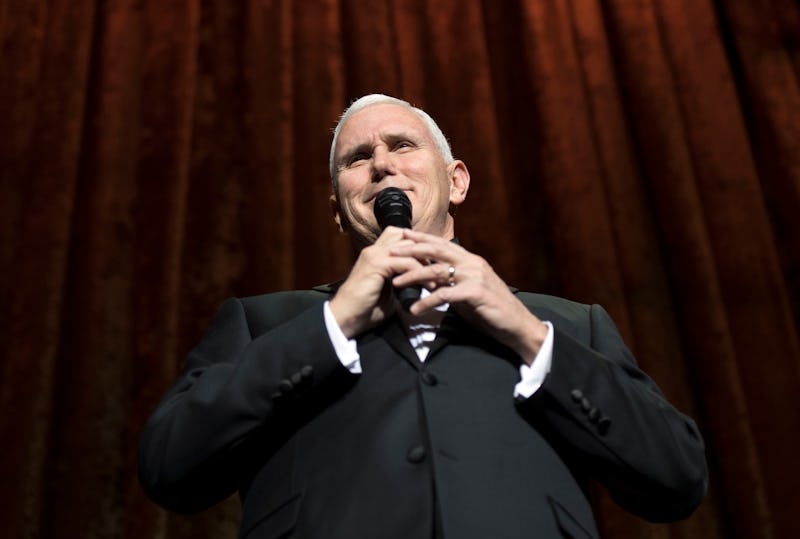 Pool/Getty Images News/Getty Images
This weekend, Washington, D.C. will be awash in marches, protests, demonstrations, slogans, chants, signs and displays of resistance to the incoming president. But one group is taking a different approach as they fight back against aggression and intolerance — they're dancing. The activist group Werk For Peace staged a demonstration against Mike Pence, the soon-to-be vice president, Wednesday night. Right outside the temporary residence of the vice president-elect, Werk For Peace organized a dance party to celebrate queer and trans people.
The event drew hundreds of people, with the dancers meeting at a nearby Metro station then marching to Pence's rental home in the Chevy Chase neighborhood in Northwest Washington D.C., where he has been living since Donald Trump won the presidential election in November.
Werk For Peace founding organizer Firas Nasr said that the event set its sights on Pence because of his troublesome record on LGBTQ issues.
"Mike Pence has been vehemently opposed to LGBT equality," Nasr told Bustle. "He supports conversion therapies, he passed draconian anti-LGBT laws in his state, and he does not support marriage equality. We wanted to send a clear message to Mike Pence that, as he takes the second highest office in the country, we will not tolerate his homophobia and transphobia. We will not tolerate his bigotry and hate in our country."
"It was hugely successful," Nasr said. "Lots of glitter, lots of rainbows, lots of connection and love and acceptance of one another."
This is not the first time the neighborhood has been a site for protest against Pence's anti-LGBT views. In November, Pence's neighbors greeted him by prominently displaying gay pride flags. The neighbors appeared to be onboard with the dance protest as well, according to Nasr.
"Dance is a form of healing," Nasr said. "Our bodies are ascribed by politics, and when we use movement we are reclaiming our bodies, taking agency over our bodies."
"One image I remember is this older white man, obviously a cisgendered straight white male came down his driveway with his kids and put fists in the air and yelled, 'Werk For Peace!'," Nasr recalled. "The neighborhood definitely responded. There were kids out there from the surrounding area, from the nearby high school."
Pence was not at home for the protest — he was grabbing dinner with Wisconsin governor and fellow Republican Scott Walker.
If you missed last night's dance party, there are still more opportunities to meet up with Werk For Peace this weekend and show your support for the LGBT community by busting a move. The group, which collaborated on organizing the dance party with DisruptJ20, is working — that is, WERKing — with the group again on Saturday for their "Qockblock Brigade," which will be held outside one of the security checkpoints for the inauguration.
When asked why dance instead of a more traditional protest, Nasr said that incorporating the body into protest through dance is a political act in and of itself. "Dance is a form of healing," Nasr said. "Our bodies are ascribed by politics, and when we use movement we are reclaiming our bodies, taking agency over our bodies… That's why what we're doing here is so powerful."
For more information about Werk For Peace and their events, check out their Facebook page or their web site.