The #WhyIDidntReport Tweets Responding To Trump's Claim About Sexual Assault Are Powerful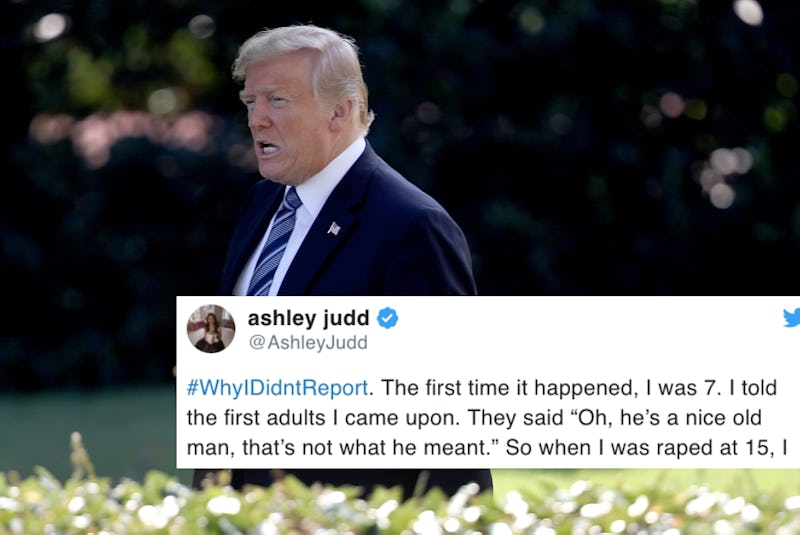 Win McNamee/Getty Images News/Getty Images
Less than a week after Christine Blasey Ford spoke publicly for the first time about her allegations against Brett Kavanaugh, Donald Trump defended his Supreme Court nominee on Twitter and suggested that Ford was not telling the truth. In response to Trump's tweets, survivors of sexual violence used the #WhyIDidn'tReport hashtag on Twitter to discuss why they didn't report their own experiences with sexual assault, and voiced solidarity with Ford.
In a letter sent to California lawmakers over the summer, Ford, now a professor in California, alleged that Kavanaugh sexually assaulted her in the 1980s, when they were both high school students. Kavanaugh has denied these allegations, stating that he "did not do this back in high school or at any time." On Friday, Trump defended Kavanaugh on Twitter, implying that the judge's reputation was unfairly under attack.
"Judge Brett Kavanaugh is a fine man, with an impeccable reputation, who is under assault by radical left wing politicians who don't want to know the answers, they just want to destroy and delay," Trump tweeted. "I have no doubt that, if the attack on Dr. Ford was as bad as she says, charges would have been immediately filed with local Law Enforcement Authorities by either her or her loving parents. I ask that she bring those filings forward so that we can learn date, time, and place!"
For many people on Twitter, Trump's tweets were reminiscent of the doubt and skepticism survivors often face when they report sexual assault. As a result, his defense of Kavanaugh prompted thousands of tweets under the #WhyIDidntReport hashtag.
Actress Alyssa Milano — who last year boosted Tarana Burke's #MeToo movement with a viral hashtag — replied directly to Trump, letting him know that she was sexually assaulted twice but never filed a police report. Other Twitter users quickly chimed in, talking about the various reasons for which they did not report their experiences.
Actress and activist Ashley Judd was one of many survivors to join the conversation sparked by the #WhyIDidntReport hashtag:
Per The Hill, Judd was one of many women who accused Harvey Weinstein of sexual misconduct. She also sued Weinstein earlier this year, CNN reported, alleging that comments he made about her had been harmful to her career.
Many other Twitter users also tweeted under the #WhyIDidntReport hashtag, and the reasons they gave ranged from facing skepticism to concern about personal safety.
Other survivors tweeted that they did not report sexual assault because they faced legal hurdles.
Some Twitter users used the hashtag to express their solidarity with Ford and other survivors.
Others, however, reminded their followers that not everyone may feel able to share their experiences on social media.
Moreover, some survivors argued that the #WhyIDidntReport hashtag appeared to place yet another burden of proof on them, as though they needed to justify why they didn't report sexual assault.
Most Twitter users who joined the conversation around #WhyIDidntReport seemed to agree, however, that Trump should never have cast such doubt on Ford and other survivors in the first place.
As CNN pointed out, there are so many different reasons survivors don't report sexual assault, and the thousands of tweets under the #WhyIDidntReport hashtag make that clear. Some are made to feel as though it was their fault, others are pressed for more evidence and asked to relive their trauma, and still others are worried about personal or legal repercussions.
According to The New York Times, Ford is prepared to testify before the Senate Judiciary Committee next week, her lawyer said, provided that the senators on the committee offer "terms that are fair and which ensure her safety." Kavanaugh, meanwhile, reportedly plans to address Ford's allegations during a hearing slated to take place on Monday, per The Hill.
If you or someone you know has been sexually assaulted, call the National Sexual Assault Telephone Hotline at 800-656-HOPE (4673) or visit online.rainn.org.