Blac Chyna Is Suing The Entire Kardashian Family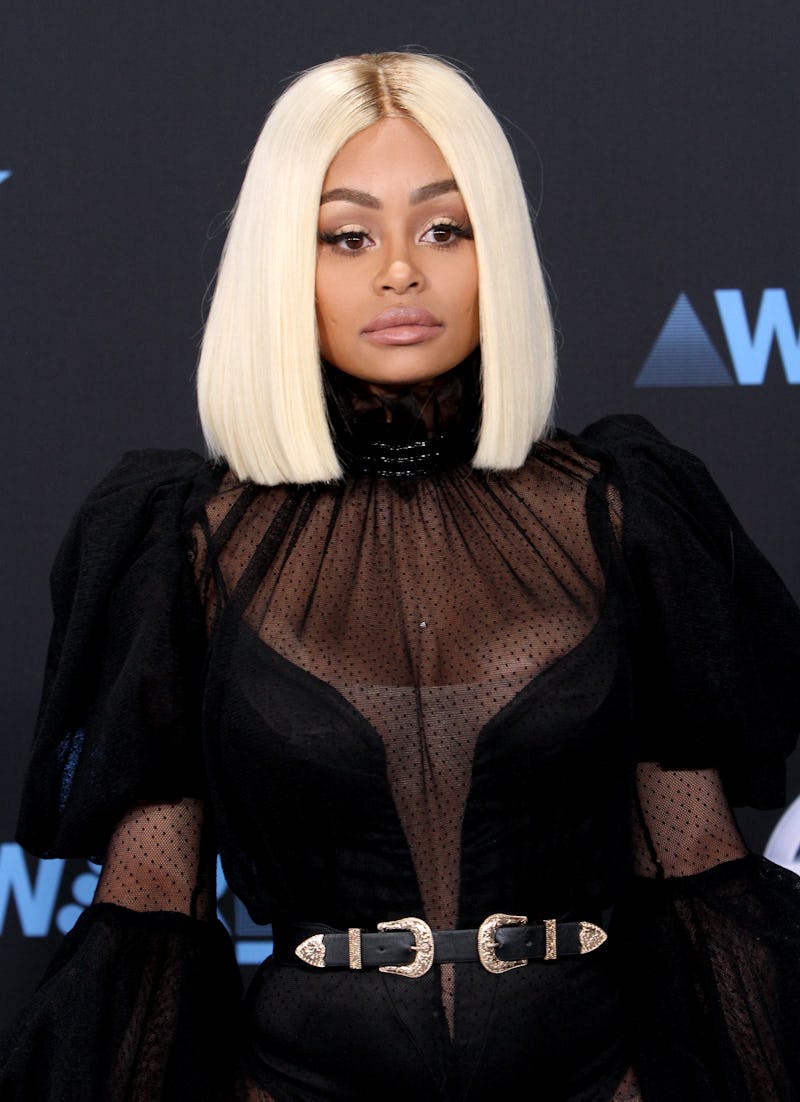 Maury Phillips/Getty Images Entertainment/Getty Images
As first reported by TMZ Tuesday, Blac Chyna is suing the Kardashians for allegedly putting an end to a second season of Rob & Chyna, amongst several other complaints against the Kardashian family and Rob Kardashian, specifically. Her lawyer, Lisa Bloom, released the following statement to Bustle regarding the lawsuit and other allegations she's made against the entire family (Rob Kardashian, Kris Jenner, Kim Kardashian, Khloé Kardashian, Kourtney Kardashian, Kendall Jenner, and Kylie Jenner):
I am pleased to represent Blac Chyna as she stands up for her rights in the lawsuit we have filed today. Revenge porn is wrong and illegal. Domestic violence is wrong and illegal. We will aggressively prosecute this case until we get justice.
Kim and Kendall's reps had no comment for Bustle on the lawsuit. Bustle has also reached out to other reps for the Kardashian family members, but has not yet received a response.
According to court documents obtained by Bustle, Chyna is suing Rob for alleged assault, battery, distribution of private materials, domestic violence, harassment, intrusion into private affairs, disclosure of private facts, defamation (libel), false light, and interference prospective economic relations. She is also suing the other family members for alleged false light, interference with contractual relations, and interference prospective economic relations.
Chyna is alleging the family "intentionally interfered" with her "talent agreement" and her "prospective economic advantage" by contacting E! and demanding the network not move forward with another season of Rob & Chyna. The documents claim E! planned on a Season 2, despite the couple splitting in December 2016. The lawsuit also alleges E! agreed to pay Chyna to appear in four episodes of Keeping Up With the Kardashians "at the rate she would have been paid for an episode of Rob & Chyna. "However, this agreement was always intended to give the network a few months to reconvene negotiations for season two after Kris Jenner and the Kardashian sisters had time to 'cool off,'" the documents claim. E! had no comment when reached by Bustle.
In July, Variety reported the reality series wasn't on E!'s schedule. "While filming on Keeping Up with the Kardashians has been ongoing, spin-off Rob & Chyna has not been in production for several months and the series is not currently on the E! schedule," an E! spokesperson told Variety. "As always, we follow the family's lead regarding their lives and relationships, and viewers saw firsthand as the family discussed putting Rob & Chyna on hold in an episode of Keeping Up with the Kardashians this spring. Keeping Up with the Kardashians is not filming right now."
In July, Rob posted a series of Instagrams about Chyna in which he made claims that she cheated on him, that she was on drugs, and that she sent him nude photos of herself the day before. He also posted nude photos of Chyna that have since been removed from his Instagram and Twitter. Also, in July, Chyna was granted a temporary restraining order against Rob.
"I've talked to Rob, you know, about everything. I've talked to him," Chyna told Good Morning America in July. "The moral of the story is, like, he doesn't respect me, so if you can't respect me, you have to respect the law." Regarding the nude images, she said, "I was devastated, of course. I'm like, 'How could somebody, like, post these pictures of me?' And I'm like, wow, OK, like, this is a person that I trusted. I just felt betrayed."
In July, Rob's lawyer, Robert Shapiro, told TMZ that his client would not contest Chyna's request for a restraining order. Shapiro also told TMZ that Kardashian's actions were "a spontaneous reaction that he regrets" and that "Rob's only concern is for the well-being of baby Dream."
This particular incident is also listed in Chyna's lawsuit against Rob and the family.
Regarding the assault and battery claims against Rob, Chyna alleges in April Rob "grabbed her phone from her and violently knocked her to the ground in the presence of her 4-year-old son." In July, Chyna accused Rob of physically abusing her in a series of Snapchats. At the time, Blac Chyna's lawyer told ABC News in a statement, "We are considering all legal options and recourses at this time." Kardashian's rep did not get back to Bustle with a response.
Chyna is also alleging that the Kardashian-Jenner sisters and Kris "made false statements" about her, and the court documents alleged that they "leaked a false and defamatory story about Ms. White to the press." According to the documents, Chyna claims the alleged false statements made about her painted her in a bad light and affected her emotionally. "[Chyna] has suffered and will continue to suffer emotional distress, loss to her reputation, shame, mortification, and hurt feelings, and has been, and continues to be, embarrassed and humiliated by the false statements and implications and reasonable fear that she will be shunned, avoided, and subjected to ridicule," the lawsuit reads.
This isn't the only lawsuit involving Chyna and members of the Kardashian-Jenner family. In September, People reported that Rob and Kylie are suing Chyna. Rob is suing Chyna for allegedly assaulting him and claims that she damaged his Bentley with a chair and choked him with an iPhone cord. As for Kylie, she claims Chyna made a "deliberate attempt to extort the Kardashian family for her own monetary gains" in an "outright fraud to shake down the Kardashian family." During an alleged Dec. 14, 2016 incident that occurred while Chyna and Rob were staying in Kylie's home, Chyna allegedly damaged the home causing more than $100,000 worth of damage. At the time of the report, Chyna's lawyer had no comment and Bustle did not receive a response from reps for Kylie or Rob.