New York Just Sued Trump, Don Jr., Ivanka, AND Eric Over Some Serious Allegations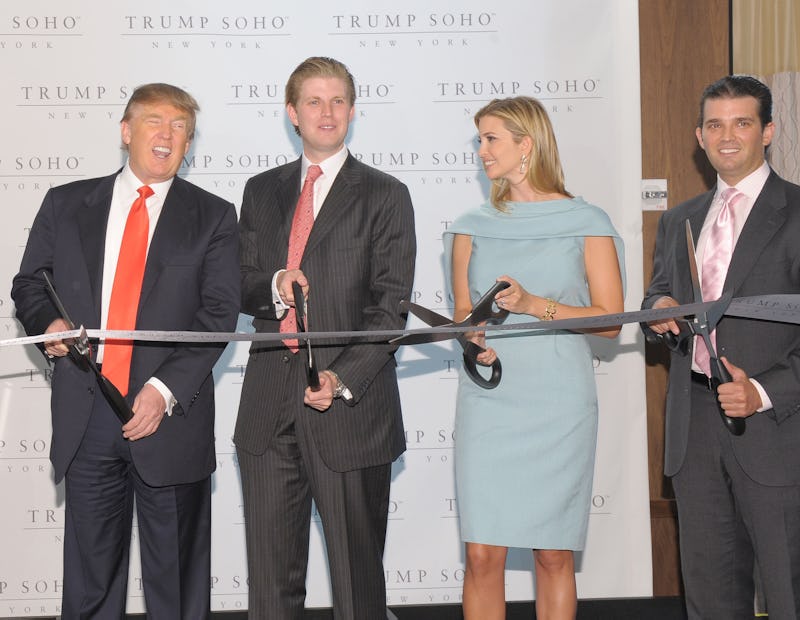 Michael Loccisano/Getty Images Entertainment/Getty Images
It seems like the Trump family has fallen into legal trouble — again. The New York attorney general sued President Trump and his three eldest children on Thursday, citing misuse of their personal foundation and "persistently illegal conduct." Attorney general Barbara Underwood is calling for the Donald J. Trump foundation to completely dissolve and for their remaining funds to go to other charities.
New York state began examining the Trump Foundation after a Washington Post investigation reported that the one of the biggest beneficiaries of the foundation was Trump himself. In the suit, Underwood alleges that Trump has used the organization to decorate one of his golf clubs and even fund one of his 2016 campaign events.
"The Trump Foundation was little more than a checkbook for payments from Mr. Trump or his businesses to nonprofits, regardless of their purpose or legality," Underwood wrote in a statement. She alleged that the charity has repeatedly violated laws related to tax-exempt organizations and, most importantly, that its money is supposed to serve the public good, not benefit its founders.
Trump responded to the suit on Twitter, saying, "The sleazy New York Democrats, and their now disgraced (and run out of town) A.G. Eric Schneiderman, are doing everything they can to sue me on a foundation that took in $18,800,000 and gave out to charity more money than it took in, $19,200,000. I won't settle this case!..."
Last month, Underwood replaced Eric Schneiderman as attorney general after he resigned amid sexual assault allegations. She previously served as the state solicitor general and has stated that she will not be seeking another term as attorney general in the fall.
Underwood has also sent notices to both the IRS and the Federal Elections Commission concerning "possible violations" of tax and federal election law committed by the Trump Organization, according to The Washington Post. She cited two instances where the foundation had appeared to help political campaigns, which is against IRS law for tax-exempt organizations. The group appeared to donate $25,000 to Republican state attorney general Pam Bondi's reelection campaign in 2013, according to The Post.
But the campaign that allegedly gained the most from Trump's foundation was his own. Underwood claims that in January 2016, "the Foundation ceded control over the charitable funds it raised to senior Trump Campaign staff," referencing emails with Corey Lewandowski, Trump's then-campaign manager.
"This is unconscionable, particularly because the Foundation previously announced its intention to dissolve more than a year and a half ago," the Trump Organization said in a press release Thursday. "The Foundation has donated over $19 million to worthy charitable causes – more than it even received. The President himself – or through his companies - has contributed more than $8 million."
Trump has already been forced to pay $330,000 in reimbursements and penalty taxes related to the foundation since 2016. Underwood goes even further, and asks that Trump be forced to pay at least $2.8 million in restitution payments.
The lawsuit also names Trump's three oldest children, Donald Trump Jr., Eric Trump, and Ivanka Trump, because of their position as executive board members of the foundation. The suit holds board members responsible for ensuring that the foundation's leader — in this case, their father — does not misuse funds. However, the board has apparently not met since 1999, when the Trump children were in their late teens and early 20s.
"The Foundation's directors ... abdicated all responsibility for ensuring that the Foundation's assets were used in compliance with the law," the suit states. The suit also asks that Trump and his three oldest children be banned from serving as a director of a nonprofit in New York for a year.
This could have a ripple effect on the work of Trump children like Ivanka, who set up a charitable fund for "economic empowerment for girls and women" last year. It would be even more pressing if the IRS or Federal Elections Commission started independent investigations of their own into the foundation, which could seriously complicate Trump's 2020 run.