Obama's Final Duty Will Be Escorting Trump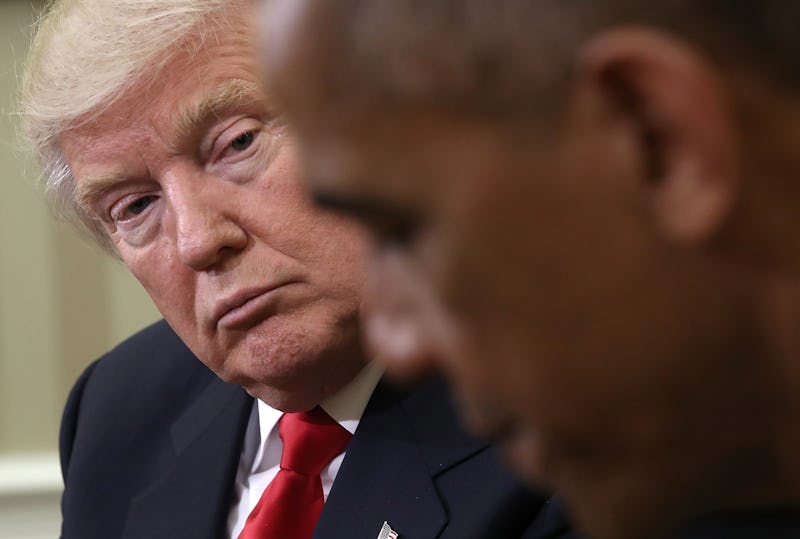 Win McNamee/Getty Images News/Getty Images
Those who are unfamiliar with presidential protocol may find it odd to see President Barack Obama escorting Donald Trump to his Inauguration Day swearing-in ceremony, given the two men's rocky relationship and history of trading barbs. In the weeks leading up to Trump's inauguration, the already tepid relationship between Obama and Trump began to quickly deteriorate as the President-elect repeatedly criticized and questioned his predecessor on social media. Though you may wonder why Obama would bother walking Trump to the inauguration, the escort has been a president's final duty for years.
One of Obama's final duties as president will be to escort his successor to his swearing-in ceremony. Outgoing presidents have been attending the inauguration ceremonies of their successors since 1797 when George Washington watched John Adams be sworn into office.
However, while the outgoing president has — with few exceptions – been a regular inauguration guest since the country's early years, it wasn't until the 1800s that they began the tradition of escorting their successor to the inauguration. Former President Andrew Jackson was the first outgoing president to ride with the president-elect to the U.S. Capitol building for the swearing-in ceremony in 1837, according to the Joint Congressional Committee of Inaugural Ceremonies.
After the swearing-in ceremony, the newly sworn in president is traditionally expected to escort his predecessor out of the Capitol through a military cordon before attending the rest of the day's inauguration events. As the new president lunches with Congress and prepares for his inauguration balls, the outgoing president and his or her family depart for their new residence.
While there are no official rules for how the outgoing president makes his exit, a few longstanding etiquettes create a basic framework for how the departure should go down. According to the Joint Congressional Committee of Inaugural Ceremonies, the outgoing president's departure is organized according to behavior suggestions laid out in an 1889 handbook entitled, the Handbook of Official and Social Etiquette and Public Ceremonies at Washington.
"His departure from the Capital is attended with no ceremony, other than the presence of the members of his late Cabinet and a few officials and personal friends," the Joint Congressional Committee of Inaugural Ceremonies reports the handbook dictates. "The president leaves the Capital as soon as practicable after the inauguration of his successor."
In recent years, outgoing presidents have made their final departure via Marine One, the helicopter operated specifically for the president by Marine Helicopter Squadron One. Obama and his family are expected to uphold the tradition of using Marine One to make their final exit.