Why 'Supernatural' Fans May Have Already Said Their Last Goodbyes To Crowley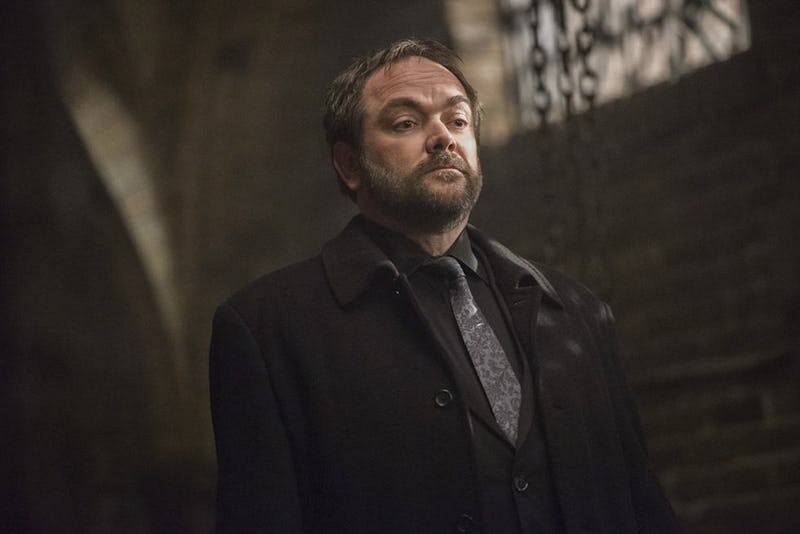 Dean Buscher/The CW
In the Season 12 finale of Supernatural, Crowley sacrificed his own life so that the show's protagonists, Sam and Dean Winchester, could defeat Lucifer. Another longtime character, Castiel, was also a casualty in the same episode, though actor Misha Collins has hinted on Twitter that the show won't get rid of him that easily. But Mark Sheppard — who plays Crowley on the show — seems to be saying his final goodbyes to the long-running series. Will Crowley return to Supernatural in Season 13 or even at all?
Unfortunately, that seems like a hard "no." Sheppard took to Instagram this summer to say thank you and farewell to the show's dedicated fans. "So to all my #spnfamily everywhere...my crew and my fellow storytellers... thanks for the ride. Time for something new. Even when I lose...," Sheppard wrote in an Instagram caption below a photo of him blowing a goodbye kiss to the camera.
Some fans may have even maintained hope after this emotional goodbye, given Supernatural's tendency to bring back fallen characters, but Sheppard seems very determined not to plant any seeds of possibility. When Jim Michaels, a producer and director on the show, tweeted at Sheppard, joking that "we never say never" and "I know where you live," he was shut down pretty quickly.
"With all due respect, your comment is inaccurate and misleading to the fans," Sheppard wrote back. "There are NO plans to have me return to SPN at ANY juncture." That's a hard comment to misconstrue.
Supernatural has a fan base unlike many others, and they'll surely be mourning the death of an iconic character for a long time, but it's not exactly a stretch to think that Sheppard would want to move on. He's been featured in 70 episodes of the show, ranging all the way back to 2009. The show enters its 13th season this fall, and there's really no talk of an end just yet. That's a long time to be on a single show, especially one in which the actor can't see himself going down with the ship in the near future.
It's clear what Sheppard's fans mean to him — according to his social media, he's still attending conventions to wrap up his time with the show, and the show's cast is known for its sentimentality. Other cast members, even those seemingly in for the remainder of the seasons — however many that may be — have said that when the time comes, it'll be tough.
"I feel like I know Jensen [Ackles], I know Dean, I know Misha [Collins], I know Cas, I know myself, I know Sam, and [when the show ends], it's going to feel like losing a friend," Jared Padalecki (Sam) told Entertainment Weekly. "When it's all said and done, it's going to be tough. I'm going to lose several friends."
Padalecki seems to know, though, that dragging things out for too long could cause things to go south.
"I feel I've learned a lot from my friend Sam. I've learned a lot from my friend Dean. I want to tell that story as well as possible as long as possible, but I don't want it to get too long in the tooth," Padalecki told Entertainment Weekly in another interview.
Though Supernatural will continue without Sheppard, he's sure to have a long future ahead of him. He's a versatile actor, with roles in several TV movies and arcs on shows like White Collar and 24. For now, though, his IMDB page doesn't show anything in the works, and after eight years on a single project, you can't blame him for taking a breather. Until you see him next on your screen, you can follow along with his musical endeavors and his time with family on his Instagram, where he continues to give his fans a glimpse into life after Crowley.