Why Egypt Isn't Targeted In Trump's Order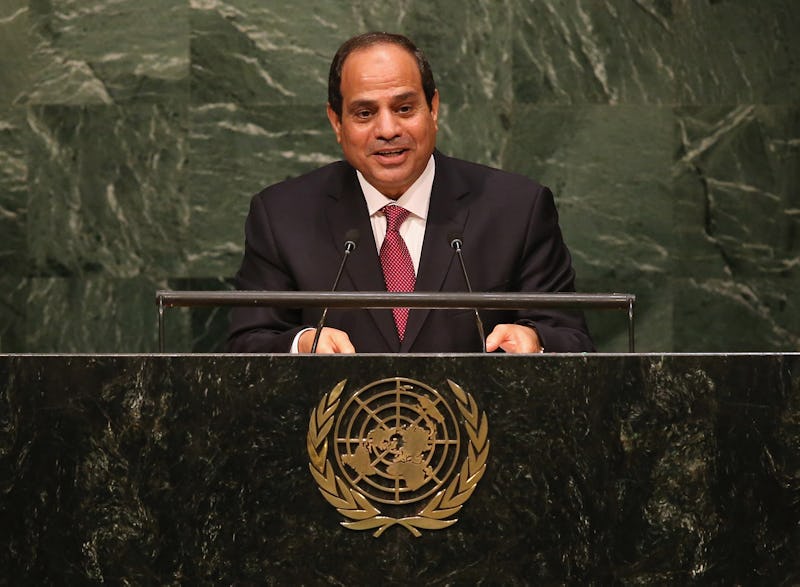 John Moore/Getty Images News/Getty Images
As his first week as president came to a close on Friday, Donald Trump signed an executive order regarding immigration and refugees from seven majority-Muslim nations. The order, which resulted in confusion and protests at airports throughout the country, has not been warmly welcomed. Among the many critiques of the executive order targeting the seven Muslim-majority countries, many are wondering why isn't Egypt subject to Trump's immigration restrictions?
Trump's executive order did not just pull countries at random for which to enforce these restrictions. In fact, the order doesn't actually specifically name those seven nations in the text. Rather, it refers to existing policy outlined in section 217(a)(12) of the INA, 8 U.S.C. 1187(a)(12). That guideline, which was created under Obama's presidency, details seven specific countries — Iran, Iraq, Libya, Somalia, Sudan, Syria, and Yemen — as carrying concerns for U.S. national security
Although these countries have been indicated as threats to our national security, there have not been any fatal terrorist attacks on U.S. soil since 9/11 perpetrated by citizens of the countries on this list (though, as Politifact noted, "there have been at least three non-deadly cases in which the perpetrator was connected to Iran or Somalia.")
What is striking to many is that countries whose citizens have carried out terrorist attacks in America, for example Saudi Arabia, Pakistan and Egypt, did not end up on the list of countries whose citizens may endanger us.
In December, the U.S. State Department issued a warning for travelers to Egypt because of terror attacks there. It came shortly after a bombing at a church in Cairo killed 25 people. The State Department warned that terrorist attacks in the nation often targeted U.S. citizens and Westerners.
Additionally, Mohamed Atta, the tactical leader of the 9/11 attacks, was Egyptian. And some of Osama bin Laden's top deputies were Egyptian, along with the current head of al-Qaeda, Ayman al-Zawahiri.
So, why would Egypt not register on the list of countries whose citizens pose a terror threat?
Some have suggested that the omission of Egypt could have something to do with Trump's business interests. Egypt, like other countries left off the list, have had business dealings with Trump in the past; for example, there are two Trump companies registered there. Numerous outlets, including the New York Times and Bloomberg, have brought up that countries with connections to Trump's business were not named in the executive order.
The president also prioritized a relationship with Egypt's president Abdel-Fattah el-Sissi, in the first week of his presidency. The two reportedly spoke on the phone earlier this week about how the two nations could work together to fight terrorism.
For now, Egypt is not one of the countries subject to Trump's executive order's strictest restrictions. However, since Chief of Staff Reince Priebus said "Perhaps other countries needed to be added to an executive order going forward," it may find itself there.