Obama's Farewell Speech Is Much More Than An "End"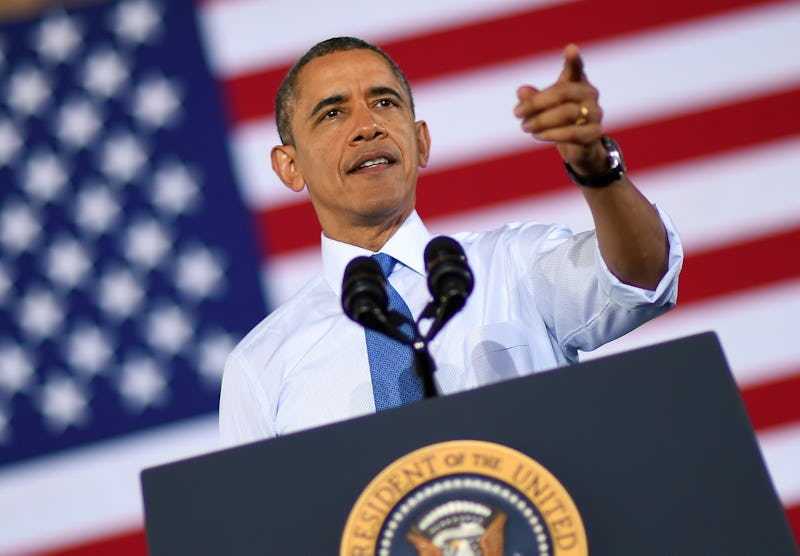 JEWEL SAMAD/AFP/Getty Images
On Tuesday evening, outgoing President Barack Obama gave a rousing and emotional farewell speech from his hometown of Chicago, reflecting on and bidding adieu to his 8-year presidency. In reflecting on the president's words on Twitter, California's Lt. Governor Gavin Newsom characterized Obama's speech as "not a farewell, but a call to action." While Obama's speech certainly was sentimental and expressed fondness and gratitude for his once-in-a-lifetime experiences and for the people in his life, Newsom was absolutely on point in also characterizing the speech as a call to advocacy and action.
Indeed, Obama's speech seemingly centered on encouraging Americans to protect democracy and not take it for granted. He called on Americans to be more active in paying attention to and listening to each others' diverse view points. Most importantly, he asked them to believe in their own ability to bring about change in their country.
Additionally, Obama used his speech to express his fears for the United States' future and called on the American people to help mitigate these issues. As analyzed by Vox, Obama delineated five specific threats that he believes America is facing, using his speech as a forewarning for the future. These threats include the following: the economy and related inequality, racial tension, foreign threats and U.S. values in combatting these threats, polarization and the notion of existing in "bubbles" of likemindedness, and crumbling democratic institutions.
To combat these threats and ensure the preservation of American democracy, Obama directly called on American citizens to be more engaged and more intentional in their actions. The outgoing president eloquently captured this sentiment and even provided specific examples of actions which Americans should undertake, saying:
[Democracy] needs you. Not just when there's an election, not just when your own narrow interest is at stake, but over the full span of a lifetime. If you're tired of arguing with strangers on the Internet, try to talk with one in real life. If something needs fixing, lace up your shoes and do some organizing. If you're disappointed by your elected officials, grab a clipboard, get some signatures, and run for office yourself. Show up. Dive in. Persevere.
Overall, Lt. Governor Newsom was spot-on in identifying the strong advocacy orientation of Obama's presidential farewell speech. It is quite clear from the outgoing President's words that, while perpetually optimistic about America's future, he does have some serious concerns about the country's trajectory. According to Obama, these concerns are seemingly best addressed by creating an action-oriented, engaged, and mutually-respecting citizenry, a notion which is now more important than ever. I believe it would serve the country well to heed Obama and Newsom's words and take concrete actions to create positive change.