Olivia Culpo Will Make You Love Shoes Even More In Her New Role With DSW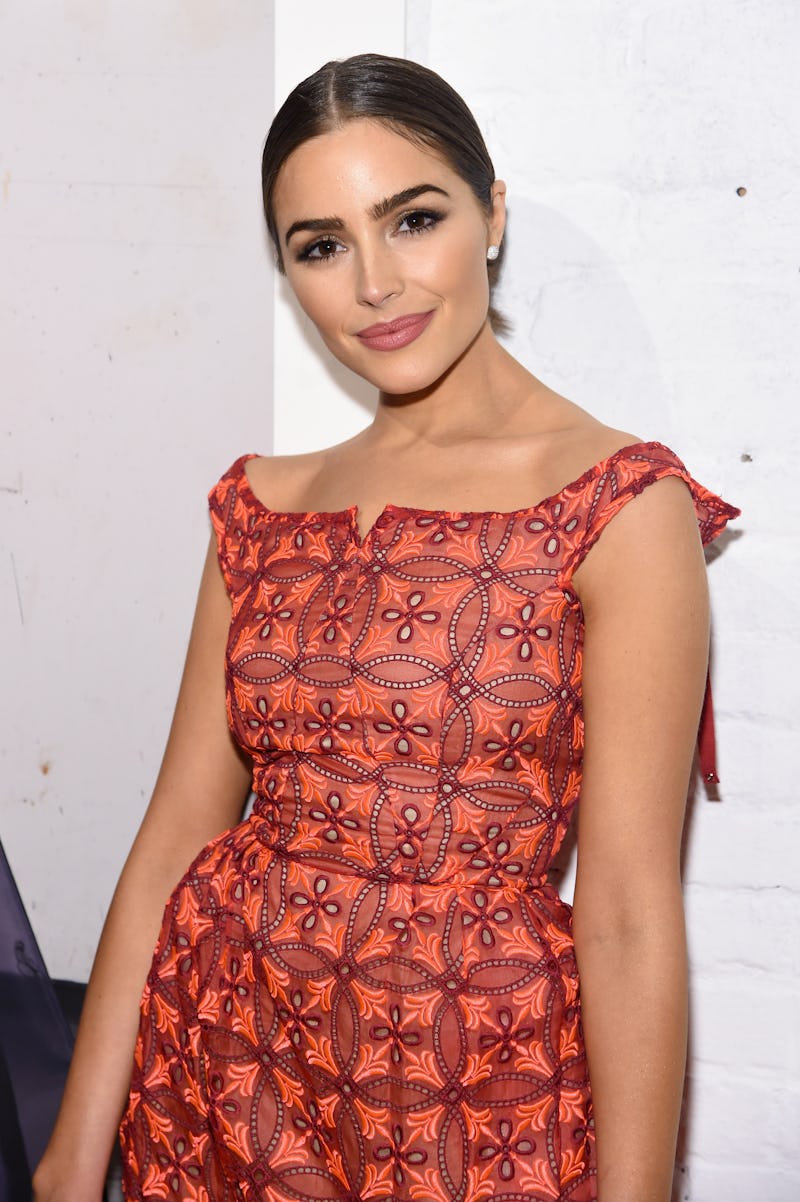 Jamie McCarthy/Getty Images Entertainment/Getty Images
This former Miss Universe can certainly rock an evening gown, but she's also got a great, relaxed personal style, and that's precisely why it's advantageous to take a style pointer or two from her. Olivia Culpo is here to give you style advice through her new role as Style Ambassador with DSW, which will help her bring cute kicks to your closet. What could be better than adorable shoes curated by a stylish celeb?
"It definitely is a dream come true. I love that I can work with such an established and unbelievable brand that reaches so many people," Culpo says in a phone interview with Bustle. "It's also really exciting to actually be creatively involved." Through her new partnership with Designer Shoe Warehouse, each and every month you'll be able to shop five different shoes that are completely on-trend and in line with Culpo's classic style, chosen by Culpo herself, according to a press release.
"I want the five shoes that I'm curating to be based off of the trends, of course, but I also want them to be shoes that can be staples in any person's closet. Something that can be worn over and over again," she says.
Not only can you shop Culpo's five top picks each month, but can also see how she recommends styling each pair (like the Mix No. 6 Avery Sandal, pictured above). "I hope this will give people inspiration about what they can wear," Culpo says. "I think that every person struggles with knowing exactly if an outfit is right, and I'm hoping that what I'm doing with DSW as their Style Ambassador will give people the knowledge to try different shoes, different trends and really express themselves [...] through their shoes."
Culpo has a wealth of knowledge when it comes to practical footwear for any occasion, and she's kept different activities in mind when selecting her picks. "The trends usually offer different options, such as a dressed-down casual trend, a dressed-up trend. So, people will be able to get a lot out of the five pieces I've chosen," she says.
For instance, if you're attending a music festival this year, she suggests wearing a bootie shoe. "You get a little bit of height and also keeps you from getting any dust or anything in your shoe. Plus, they look good with any outfit." Now, is that a pro tip or what?
More than just her excellent advice, Culpo's new role is meaningful to her for quite a few reasons. "I shopped with DSW my whole life... [The brand is] so accessible... For me, that was a huge part of the partnership that makes it really valuable to me, and it's something that I know other people will find valuable as well."
"Fashion is about expressing yourself and having fun, and that's such an honor for anyone to be able to do," she explains. "It definitely is an art form. There are just so many ways that fashion can be more than just a superficial thing. It really is a vehicle for people to express themselves."
And shoes, in particular, are so much more than just an accessory. "[E]very single shoe has a memory," Culpo says. "For example, my mom still has her wedding shoes, and I know that when she looks at that it's so much more than just fashion, it's a keepsake... It really is so much more than just that one day that you're wearing it. It can take you back to so many different moments in your life, and that's really special."
She admits that she finds it difficult to get rid of her favorite pairs. "I still have the shoes that I won Miss USA and Miss Universe in," Culpo says.
If you like the idea of getting new shoes to make new memories in, you're definitely going to want Culpo as your guide. Her picks are now available to shop in stores and online on the DSW website.