Why One Yale Law Student Wanted To Use Her "Position Of Privilege" To Protest Kavanaugh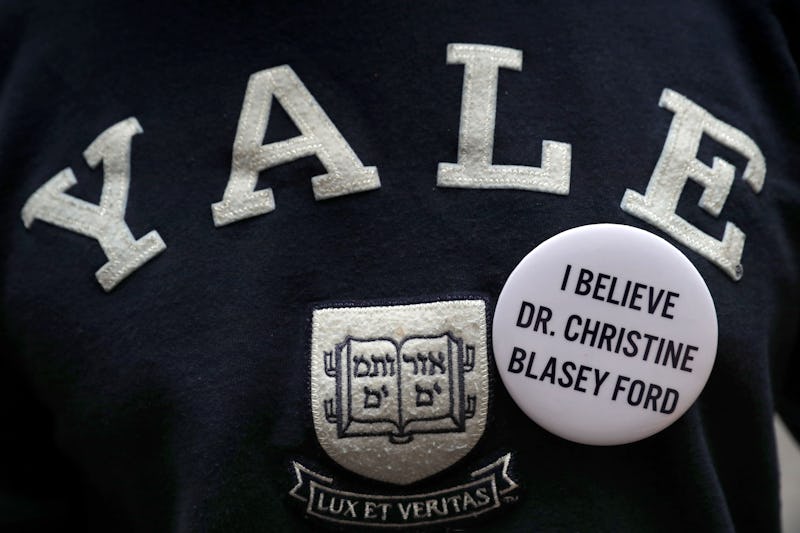 Chip Somodevilla/Getty Images News/Getty Images
On Monday, students at Yale Law School held a massive protest against Supreme Court nominee Brett Kavanaugh, a Yale alumnus who's denied now two sexual misconduct allegations from decades ago that recently surfaced. In an interview with Bustle, Yale Law student and protest organizer Sam Peltz says that this demonstration wasn't merely about Kavanaugh; it was about supporting survivors of sexual abuse everywhere, drawing attention to how widespread the issue is, and weaponizing the "massive position of privilege" that Yale Law students enjoy.
Although protests are often thought of as loud and raucous affairs, Peltz says that she and the 300 or so demonstrators in attendance sat in silence for a full 30 minutes on Monday before doing anything else. That silence, she says, "suffuses the silence of so many people who aren't able to report allegations of sexual harassment and sexual assault."
"To really sit there and feel that was incredibly powerful, and incredibly palpable," she says, explaining that the silence drove home "how much change is needed in this country."
After the silence, protesters heard speeches by Dianne Lake, another student organizer, and Democratic Sen. Richard Blumenthal. That was followed by an hour of teach-ins, wherein the organizers educated attendees about Kavanaugh's judicial philosophy and past rulings, and then a walk-out.
Peltz tells Bustle that the protest had three goals: To support Dr. Christine Blasey Ford (Deborah Ramirez's allegations against Kavanaugh weren't yet public when the protest was conceived), to oppose "the hasty and incomplete" confirmation hearings that Senate Republicans have pursued with regard to Kavanaugh, and to show support for survivors of sexual abuse. On that last point, Peltz stresses that "the issue of sexual assault and sexual harassment occurs in all segments of society."
"From low-income women, transgender and nonconforming people, people of all races, and we we want to stand in solidarity with everyone who's experienced sexual assault and sexual violence, and who has reported or not reported," Peltz tells Bustle. "That's very important to us: To emphasize that this is not just an issue that occurs at these high levels. It occurs everywhere throughout society."
In addition to showing solidarity for Ford, Peltz criticized Senate Republicans for rushing to confirm Kavanaugh after the allegations became public. Although Ford hasn't yet testified before the Senate, several Republican senators have said that they've already decided to vote for him regardless of what Ford says, and Republican leadership has refused her request to call other potential witnesses to testify at her hearing.
"Republicans were actually thinking about pushing up the vote in response to a second allegation coming out," Peltz says, referring to a report in the NewYorker that was published the day before the protest. "We think that fundamentally subverts the rule of law in this country. It doesn't afford the integrity and due respect to a woman who's come forward, as an American citizen or a human being."
Shortly after Bustle spoke to Peltz, the Senate Judiciary Committee announced that it will hold a vote on Kavanaugh on Friday — just one day after Ford's testimony.
Kavanaugh went to Yale Law, so his alma mater was a natural choice for the site of the protests. But Peltz says there was another reason that she and her fellow Yale Law students felt compelled to stage the protest.
"As Yale Law students, we're really privileged in that when we do this stuff —  when we have a sit-in with 300 of us gathered — the press comes out, they interview us, they talk to us. People pay attention, people start to have discussions, and that's a massive position of privilege," Peltz says. "I always end up quoting Spider-Man here, but with great power comes great responsibility. We recognize that we have a massive position of power here, and there's a responsibility that comes with that."