Pro-Choice Advocates Should Actually Be Hopeful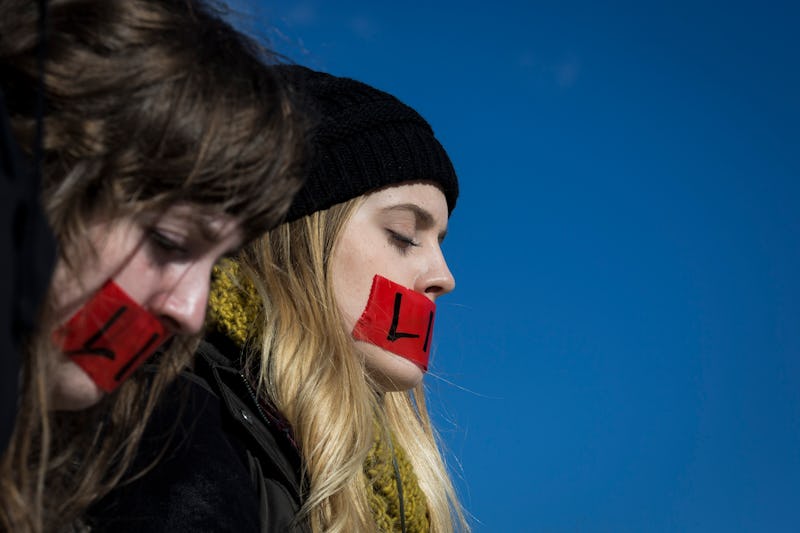 Drew Angerer/Getty Images News/Getty Images
At the start of the new year, House Speaker Paul Ryan said the GOP will defund Planned Parenthood as part of their plan to dismantle Obamacare, a promise that swiftly divided Americans into ranks of relieved and terrified, depending on their political (and healthcare related) leanings. The reality of whether or not that aim will come to fruition is yet to be seen, but considering the fact that President-elect Donald Trump promised to appoint pro-life Supreme Court justices during an interview on 60 Minutes, it's not inconceivable that Congress could move forward in withdrawing funds from Planned Parenthood — and do so fast. However, just as quickly, reproductive rights groups are mobilizing in response, including NARAL Pro-Choice America.
The field director for NARAL Pro-Choice America, Mitchell Stille, talked with Bustle and actually offered hope for those worried about the future of reproductive rights in America. In fact, Stille stressed that there's been an uptick in support since the election of Trump. "Our membership is up, giving is up, people communicating to us through social media saying they want to take action, it's all well above our normal numbers, even for an election year," he said. "People are upset, they want to get in there and make change."
According to Stille, the team at NARAL wasn't necessarily surprised by Ryan's announcement about defunding Planned Parenthood. What was more jaw-dropping was, in Stille's words, the "hypocrisy" of limiting access to birth control in an attempt to limit abortions, he said:
"If you look up 'hypocrisy' in the Webster's Dictionary I think you see a picture of Paul Ryan's face," Stille said. "The very people who talk about how they want to limit the number of abortions turn around and make their number one action limiting women's access to healthcare and defunding Planned Parenthood. All of these things, of course, raise the number of abortions that women are going to seek. It's hypocrisy at its finest."
To add to the problematic nature of defunding Planned Parenthood to reduce the number of abortions in America, only 3 percent of the organization's health services are even devoted to providing abortions. Moreover, none of the funding for those services come from federal funds.
From Stille's perspective, Ryan and his anti-choice colleagues are "fighting for the 1950s, and we're going to make sure that they don't come back."
When asked how they as an organization plan specifically to mobilize during the incoming Trump administration (and possible defunding of Planned Parenthood), Stille put an emphasis on citizens making the calls to their representatives.
"We are going to be making sure that their constituents are reaching out and talking to them," he said. "Will it do the good that it should? I'm not sure yet, [but] we know we're in the same place today that we were in the day before the election, 70 percent of Americans are pro-choice. They believe the government should stay out of that decision for a woman, her family, her doctor, her faith."
Alongside the crucial involvement of calling our representatives about women's rights to reproductive healthcare, Stille also stressed the importance of staying politically educated and up to date: "We're not in a time where people are waiting for the morning paper to arrive. [We're] making sure people are up to date on what's going on, sending our emails, making sure people are keying into the traffic on social media."
While the current political outcome is far from the one that NARAL and its supporters had hoped for, Stille said he sees reason for optimism, especially in local politics. "I already see people looking for the places that they can make change," he said. "Folks are going to look for the places where they can have an impact, and unfortunately, Washington is tone deaf in a lot of ways. A lot of the politicians don't care who their constituents are. They listen to a very small group of extremists who funnel money into their campaigns. So, people are going to look for the place where they can make a difference, and that's primarily at a local level."
Stille emphasized that not only is NARAL prepared to fight during the next four years, but they intend to boost the voices of individuals seeking to advocate for reproductive rights. "If you're going to go restrict women's access to healthcare they need, you're going to pay that price at the ballot box. A lot of folks are taking a look with fresh eyes at what being politically active means," he said. "NARAL is going to lend a microphone and a platform so that those voices are heard."