This Is Why Selena Gomez Fans Are Convinced Her New Song Is About Lupus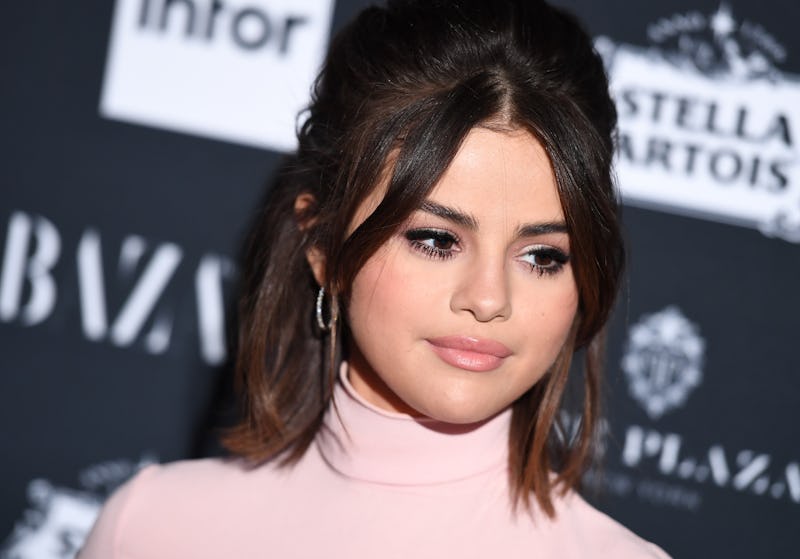 ANGELA WEISS/AFP/Getty Images
On Wednesday, pop queen extraordinaire Selena Gomez will release a new single, and her fans suspect it may be her most personal song to date. Twitter can't stop asking if Selena Gomez's "Wolves" about Lupus. The former Disney star has been open about the ways in which the chronic disease has affected her life, especially after she received a kidney transplant in the summer. In Latin, the word "Lupus" translates to wolf, which has some speculating that "Wolves" will address Gomez's battle with the disease.
Gomez shared a promotional image for the song on her Instagram on Monday, and the caption seems to include a sneak peek at the lyrics. The caption reads, "I've been running through the jungle, I've been crying with the wolves." "Wolves" is a collaboration between the singer and EDM music producer and DJ Marshmello. In an August radio interview with Energy 103.7, Gomez teased the song, saying, "It's really cool. It's kind of in that world, his world, and I'm stepping into it and bringing my style, too. 'Wolves' is one of my favorite songs."
The imagery of someone running through the jungle and crying with wolves suggests wildness and the unknown. Gomez has certainly had to deal with her share of uncertainty in recent years. In 2015, when she first revealed her Lupus diagnosis, the 25-year-old told Billboard,
"I was diagnosed with lupus, and I've been through chemotherapy. That's what my break was really about. I could've had a stroke."
In 2016, she went on to take a break from being in the public eye to focus on her health, and earlier this year, Gomez's long-time friend Francia Raisa donated one of her kidneys to Gomez after she suffered complications with the disease. All of these things must have taken a toll, even though Gomez has proven her bravery in the face adversity time and time again.
Titling a song "Wolves" is in itself a bold move given Gomez's knowledge that her fans are keenly aware of her diagnosis, thanks to her candidacy. Having that song actually address the struggles she's faced in the last few years would offer her fans an unprecedented insight into Gomez's life. On Sept. 14, the singer shared the news of her kidney transplant on Instagram, and in the post she wrote, "I honestly look forward to sharing with you, soon my journey through these past several months as I have always wanted to do with you."
It's possible that "Wolves" could be Gomez's way of conveying her journey through metaphors. Assuming that the wolves in the title are her illness may not be entirely accurate though. It's just as likely that she's the wolf. Wolves represent freedom in many ways, and the singer may be identifying with the animal as a source of strength.
Lupus is a part of who Gomez is and the autoimmune disease can be managed, but it's a chronic disease that will always be with her. She hasn't been shy about discussing the realities of living with her diagnosis or advocating for others who also have Lupus. Her fearlessness when it comes to discussing the disease is one of the reasons her fans are speculating that "Wolves" will be Gomez's way of sharing her feelings about her journey so far.
Whether or not "Wolves" is about Lupus, you can bet that it will be a personal anthem. Gomez's openness is part of her image. She always infuses her music with her own story in a way that has made her connection to her fans palpable. Until the song drops on Wednesday, there's no way to be certain what it's about, but there's no doubt that "Wolves" will once again show off just how talented and resilient Gomez is.